❄️ Pure Chaos
To: Riedia Readers
---
Good morning! Today is Tuesday, November 22st. In today's Riedia Sweden Morning Digest, we are covering:
The new government's plans to reduce immigration, continuing issues with electricity support, and advice on how to prepare for unemployment in Sweden.
– Julia Powanda, Viviana Levet, Xuecong Liu
Swedish Unemployment
It's unpleasant to get fired, but doing the right things as soon as you start a job can save you lots, helping you through if you find yourself unemployed in the future.
This workshop is for everyone interested in working in Sweden, no matter whether you are looking for a job, just started working, or have recently found yourself unemployed. The earlier you prepare for it, the more you could potentially save.
When? Where? How?
On Wednesday, November 23rd, at 1:00 PM (CET) our guest speaker Giancarlo will share in an online workshop about how he went through periods of full-time employment, freelancing, and unemployment in Sweden, and how he got to know the Swedish employment system inside out, as well as what you need to do.
Many people coming from abroad do not know about unemployment benefits in Sweden. This workshop is for you to learn all the tips and tricks you need to know to best prepare for employment and unemployment in Sweden.
The event is in English, with materials in other languages to follow.
Correction : In last Saturday's newsletter, we wrote the wrong date. Please note that it takes place on Wednesday (tomorrow) instead of Tuesday (today).
Immigration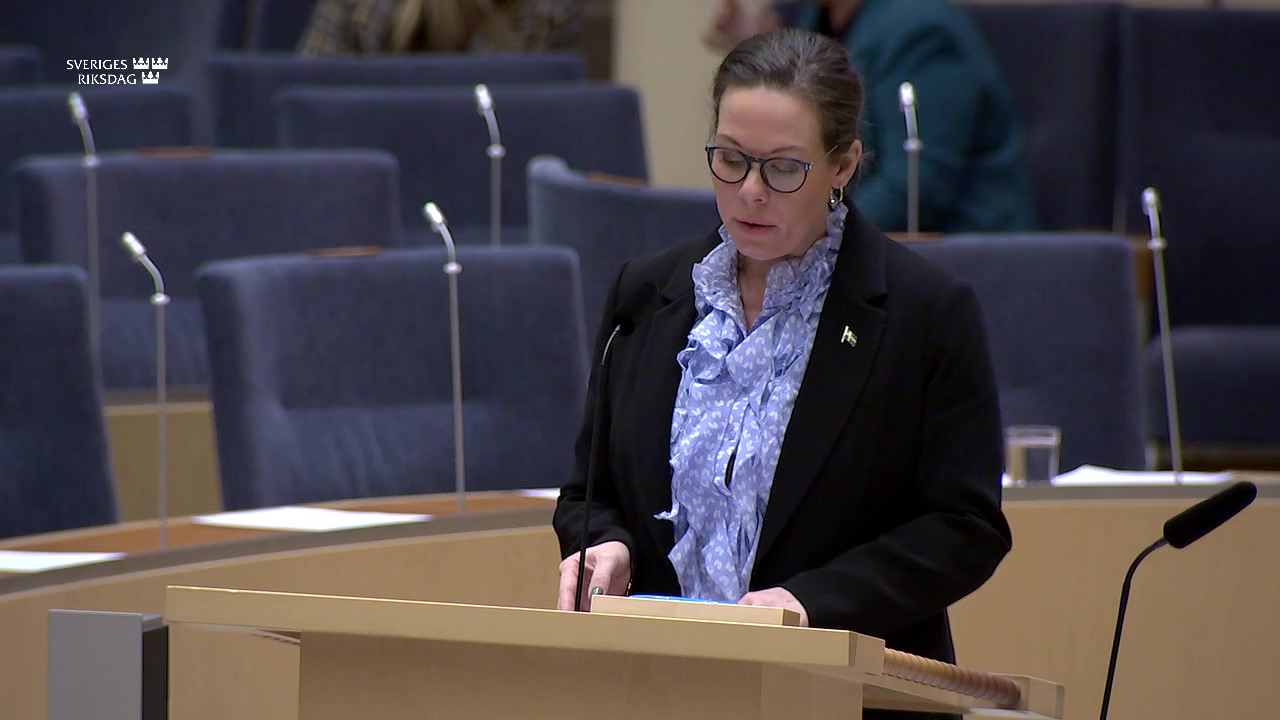 The number of asylum seekers appears to be growing to over 15,000 this year alone, this is too much according to Minister of Migration Maria Malmer Stenergard (Moderates).
To fight this, the new government plans to reduce the number of quota refugees from 5,000 to 900 and with this, reduce the number of people who can stay for humanitarian reasons.
However, refugees are not Sweden's biggest immigrant population, today the majority of immigration to Sweden is made up of labor migrants, a type of migration that the Minister also thinks is problematic, "why does Sweden need to bring in a couple of thousand people to work in cleaning, fast food restaurants and as a newspaper carrier, while Sweden has so many people who make a living through grants and not their own salary."
Other goals
The new government has also outlined other plans to reduce migrants in Sweden. Such as, getting more people to return to their home countries, and giving Migrationsverket a special mandate to withdraw more residence permits.
The government also wants to phase out permanent residence permits – and be able to transform them. However, according to Minister Stenergard, it is not about turning them into temporary ones, but about preventing people from "getting stuck" with a permanent residence permit.
Some other proposals of the new government regarding immigration are also limiting the rights of asylum seekers, limiting social benefits for newcomers, and increasing the requirements for family migration.
Electricity Crisis
The Swedish Energy Inspectorate approved the electricity support proposal submitted by the Swedish Power Authorities and the government. The support has been long awaited among several companies in southern Sweden, but at the same time, there is concern that the support will not be enough.
Why is the support 'dangerous'?
According to experts, if politicians do not find a long-term solution to the high electricity prices, there could be bankruptcies and massive firings for small industries and suppliers.
Companies can not just sit around and hope that Putin will come to his senses soon. According to information shared by various analysts, this financial support, which is based on future costs, "can lead to higher unpredictable costs and give the wrong incentive to companies, leading them to become less efficient in their electricity use".
US
Another shooting took place in the US over the weekend, this time in Colorado Springs. The shooting left five people dead and 19 people injured. A suspect is in custody.
Heroic club patrons
Police have identified the suspect as Anderson Lee Aldrich. Aldrich allegedly entered the Club Q nightclub just before midnight carrying an AR-style rifle and a handgun. Club patrons were praised for their heroism for intervening and stopping the suspect. Police were also able to arrive at the scene within minutes.
Colorado has had numerous high profile mass shootings in recent years, ultimately leading to the passing of a "red flag" law to temporarily prevent people from purchasing guns. Aldrich had a prior criminal history, and there are questions about whether Colorado's laws should have applied to him and prevented him from purchasing guns.
The suspect is the grandson of outgoing California Assemblyman Randy Voepel. Voepel lost his bid for re-election earlier this month.
What else is happening in Sweden?
😤 According to a recent measurement of customer satisfaction from the Swedish Quality Index (SKI), electricity grid companies and district heating suppliers have received the worst ratings historically .
📺 No commercial version of Disney+ in Sweden yet. Disney has not released a date for when the cheaper version of Disney+ with ads will be available in Sweden.
🚘 Stricter ID requirements for driving exercises. The change is intended to make sure that the driver is actually the person the instructor is authorized to teach. The new law will also crack down on those running driving schools without licenses.
What else is happening in the world?
🐦 A rare species of bird which was thought to be extinct has been rediscovered on a small remote island in Papua New Guinea. The last time a bird of this species was seen was 140 years ago, in 1882. The discovery gives hope that other species of birds believed to be extinct still live out there in the distant wilderness.
🇭🇰 Hong Kong's leader John Lee tested positive for Covid-19 only days after he met China's President Xi Jinping at the Pacific Cooperation APEC summit in Bangkok last week.
🇰🇵 North Korea's Foreign Minister Choe Son-Hui has accused UN's Secretary General António Guterres of being a puppet of the US and its allies after Guterres condemned North Korea's latest missile test.
Meanwhile, in Stockholm
🌨️ The snowstorm continues to cause major disruptions to traffic in Stockholm. There will likely be disruptions to bus and train services throughout Tuesday.
🚗 Stolen luxury cars found and seized. Border police in Stockholm have been able to intercept and seize many stolen cars this fall. Legal proceedings against the suspects are ongoing.
📽️ A new film about the Stockholm massacre is in production. Filming is, however, taking place in Hungary and the Czech Republic.
Finance
💸 The Riksbank is expected to announce another sharp rise in interest rates this week. The high inflation situation combined with interest rate increases is now putting additional pressure on the housing market.
💼 After losing more than doubled during Q4 2022, Disney changes CEO again, bringing back former CEO Bob Iger.
⚡ There are possible power shortages in France this winter, with 25 out of 56 nuclear reactors down because of cracks and failures. Maintenance work is in progress, but it has been delayed due to the corona pandemic and the strikes in October.
FIFA World Cup
Latest Results
🏴󠁧󠁢󠁥󠁮󠁧󠁿 England 6 - 2 Iran 🇮🇷
🇸🇳 Senegal 0 - 2 Netherlands 🇳🇱
🇺🇸 USA 1 - 1 Wales 🏴󠁧󠁢󠁷󠁬󠁳󠁿
Latest News
🚩 Women referees have been selected to officiate at the FIFA men's World Cup for the first time in history.
🗣️ FIFA president Gianni Infantino gave a criticized speech during the opening ceremony. He compared the situation of discriminated groups to himself and the bullying he had experienced during his younger days, "Today I feel like a homosexual. Today I feel handicapped. Today I feel like a guest worker."
🏳️‍🌈 FIFA bans "OneLove" armbands in all World Cup games, threatening with sporting penalties at the last minute. Many teams had pledged OneLove campaign to display "against all kinds of discrimination".
What to expect today
🇦🇷 Argentina - Saudi Arabia 🇸🇦11:00
This World Cup might be Messi's farewell? Argentina has reportedly brought from home 500 kilos of meat for "home feeling". Saudi Arabia's midfielder Fahad Al-Muwallad tested positive in February for doping and was replaced.
🇩🇰 Denmark - Tunisia 🇹🇳 14:00
Christian Eriksen is back in the tournament after the accident in the Eurocup last summer. Tunisia's attacker Issam Jebali says they are playing for all Arab countries.
🇲🇽 Mexico - Poland 🇵🇱 17:00
Can Poland's big star Robert Lewandowski break his null results of 0 goals and 0 assists in the World Cup? Mexico has been in 7 eighth finals in the World Cup in a row, but 0 quarter finals. Will it make it this time?
🇫🇷 France - Australia 🇦🇺 20:00
The French national team suffered many injuries this fall, and stars such as Karim Benzema, Paul Pogba, and N'Golo Kanté will miss the World Cup. Australia's Martin Boyle will also miss the World Cup due to knee injuries.
Swedish Vocabulary
Most of Sweden got quite a bit of snow the past few days. So much snow that buses and trains came to a standstill and many were forced to wait out the snowstorm at home.
But what you might not know is that there are many many different types of snow, and Swedes have a word for nearly every kind! Here are just a few…
Nysnö: Fresh snow

Hårdsnö: Hard snow

Pudersnö: Powdery snow

Blötsnö: Slushy snow

Fjöcksnö: Fluffy snow

Pärlsnö: Hard pearl-like snow
And these are just some of the Swedish words! There are many other ways to describe snowfall in Sweden, and even more ways to describe snow in the Sami language.
Made with 💛 in Stockholm
Enjoyed this news round up? Think of a friend that would like to learn more about Sweden too. Please share the love with them.
Get to know Sweden in 5 minutes - for free
Get daily email of news roundup in Swedish, English, Chinese, or Spanish.