💚 Green light for electricity support
To: Riedia Readers
---
Happy Friday November 18th! In today's Riedia Sweden Morning Digest, we are covering:
The government greenlights limited electricity support, concerns for the safety of Ukrainian refugees in Sweden, and the EU's crisis meeting over a dispute between Italy and France.
– Julia Powanda, Viviana Levet, Xuecong Liu
Electricity Crisis
The Energy Market Inspectorate (EI) has given the green light for the electricity support proposal presented by the Swedish power authorities and the government. However, this proposal is coming with a price ceiling for large consumers.
A total of SEK 55.6 billion in fees will be returned to electricity customers in southern and central Sweden, specifically those located in electricity areas 4 and 3.
The aid is based on historical consumption during the period from October 2021 until September 2022, and it will be granted with 79 cents per kilowatt hour (kWh) in electricity price area 4 and 50 cents in area 3.
Who receives the money?
Everyone who has an electricity agreement with Svenska Kräftnat for a house or local will receive support. The exact date is not set. Minister of Energy and Industry Ebba Busch, from the Christian Democratic Party, has promised more information within the month. The Swedish power authorities stated that the price ceiling will mean delays in the refund.
If you have more questions, here are some answers to the most common questions about the approved electricity subsidy proposal.
Migration
Human trafficking, labor exploitation, and prostitution are increasing in Sweden . According to The Gender Equality Agency assessment, the deteriorating economic situation of Ukrainian refugees in Sweden could be the reason behind this.
Last week, more than 49,000 Ukrainian refugees applied for asylum in Sweden under the EU's mass refugee directive. But as inflation leads to higher living costs, the risk of refugees being exposed to human trafficking, unserious employers, or sexual exploitation increases as well.
Police reports as evidence
According to police figures, there were around 20 police reports regarding pandering, human trafficking, and exploitation that involved people from Ukraine.
The situation is in danger of worsening as a result of the general economic situation in Sweden. There could also be an increase in exploitation within industries such as farming, cleaning services, and berry picking.
Swedish Healthcare
An increasing number of children in Sweden are receiving antidepressants . The level of children receiving antidepressants is nearly three times higher than it was 15 years ago.
Increased diagnoses
According to the National Board of Health and Welfare, nearly 33,000 children were prescribed antidepressants. The increase in prescribing the drugs is due to an overall increase in children receiving diagnoses for depression and anxiety disorders.
But this is not necessarily bad news, Maria Notlind, senior physician and specialist in child and youth psychiatry, says that it is a sign that care is more accessible for children and young people, but she does acknowledge that medicine should not be seen as a fast solution, and that antidepressants should be used alongside monitoring and follow-ups.
Håkan Jarbin, the chief physician at BUP Halland, believes that there is a certain risk of children being overmedicated in Sweden, but that, "the risks of going untreated and thus both suffering and getting worse in the future [are even greater]."
EU Politics
The EU President is calling an extraordinary meeting of migration ministers next week. The meeting will address the conflict that has flared between France and Italy over the treatment of migrants rescued at sea.
Strained relationship
Italy's new government has raised its voice on migration issues. Prime Minister Giorgia Meloni is calling for more EU countries to share the burden of receiving large migrant boats.
As a result, a diplomatic dispute has flared up between France and Italy about the reception of migrants fleeing by boat. The conflict came to the forefront last week when Italy refused to allow the Ocean Viking rescue ship to dock, and France was forced to allow the migrants to come ashore in France instead.
The French government made it clear that Italy's actions would not come without consequences, and immediately withdrew from a solidarity program in which France had agreed to receive 3,000 migrants from Italy. The conflict has also led the French to introduce passport controls at the border with their neighbor.
EU ministers are set to discuss the current situation on November 25th.
What else is happening in Sweden?
🔌 As the first heavy snowfall hits, higher electricity prices are expected during this weekend, even double!
🚆 SJ's refunds to customers who paid higher prices as a result of the booking chaos at the release of the Christmas tickets have begun this week. According to the company, around 30 percent of the tickets were priced too high.
🍞 Swedish food prices are rising more than in neighboring countries. Food prices rose by more than 17 percent compared to October last year. The increase, particularly in the price of fruit and vegetables, may be partly linked to the exchange rate and a weak krona.
What else is happening in the world?
🪖 NATO and several world leaders stated that the missile, that killed two people in Poland, was unlikely to be fired from Russia. Instead, it was believed to be a Ukrainian missile. However, NATO director Jens Stoltenberg, as well as Ukraine President Zelensky , still points to Russia as the ultimate actor responsible.
🇨🇳 China accounts for one-third of the world's greenhouse gas emissions – and everything indicates that these emissions will increase sharply by the end of the decade. At the same time, paradoxically, the country has received some praise for its climate policy.
🇪🇺 Inflation continues to climb in the EU. This is due to a sharp rise in prices in countries such as Italy and Belgium, but also a relatively rapid rise in France. Against all odds, Sweden is going the other way, with an inflation drop below in October, according to Eurostat figures.
Meanwhile, in Stockholm
🏫 Stockholm's government wants to introduce car-free buffer zones outside of schools. "This is an inexpensive way to improve everyday life for children and students in Stockholm," says Lars Strömgren (MP).
🧑‍🏫 Stockholm city will not compensate pregnant teachers who were prohibited from working due to Covid-19 restrictions. Despite the fact that the Public Health Agency made the assessment that vaccinated pregnant people were no longer classified as a Covid risk group, it wasn't until this week that Stockholm lifted the ban on allowing pregnant teachers to work.
🚗 Stolen cars were seized by Stockholm's border police. The police suspect the stolen cars were intended to be used as payment for drugs brought into Sweden.
Tech
🍗 Lab-grown chicken meat is labeled safe for human consumption. It is the first time that meat grown in a lab has been approved for consumption. This could have a huge impact on carbon emissions.
🎮 Nvidia is investigating reports about the new RTX 4090 's issues of melting power cables. It is the most powerful card ever released by Nvidia, requiring 450W of power. No solution has been found yet.
🔎 Alzheimer's can be diagnosed before the patient shows any symptoms, according to an international study led by Lund researchers.
Fun fact of the day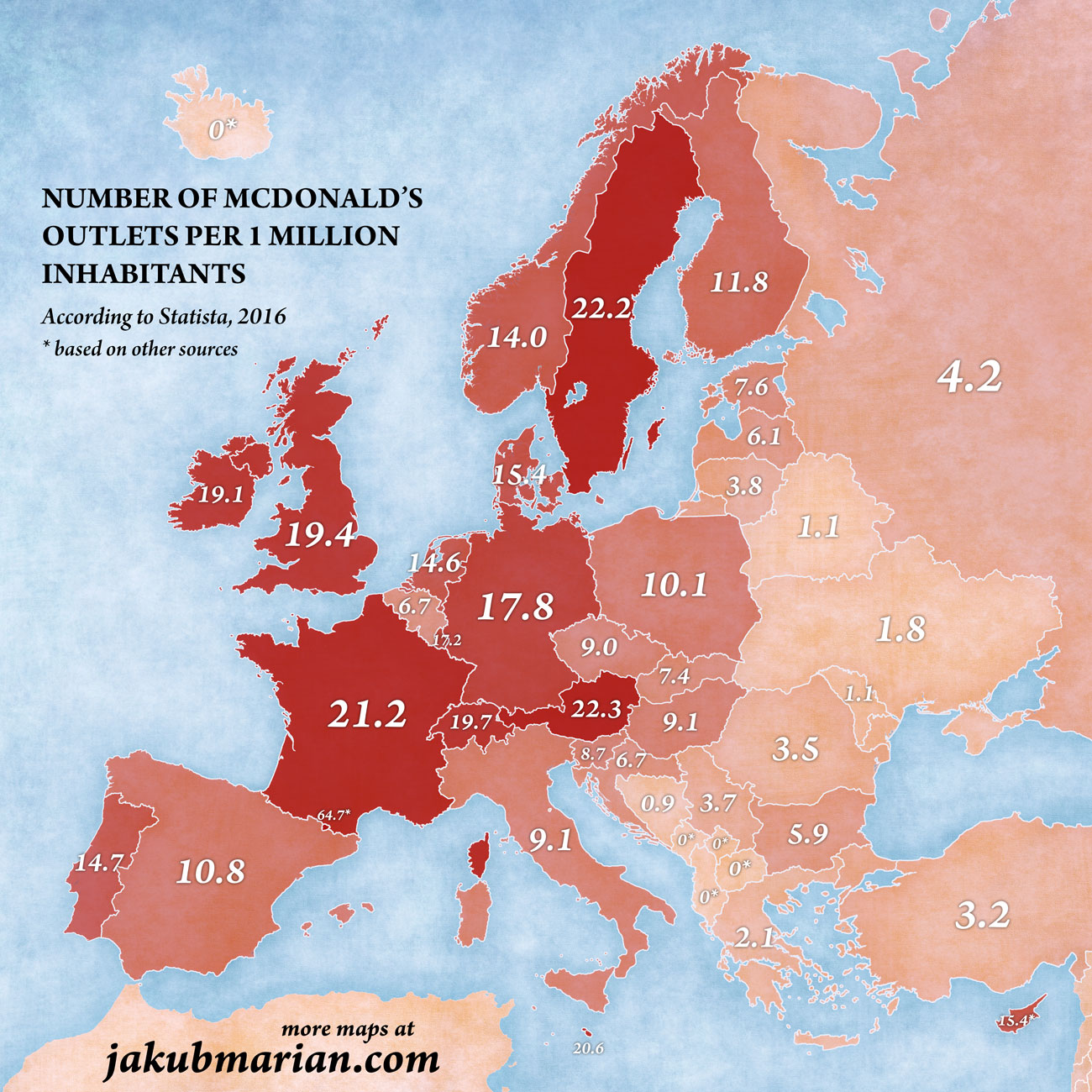 You might have heard at a dinner party that Sweden has the highest number of McDonald's per capita in Europe. It sounds surprising, considering how slim Swedes typically are. But is it true?
It once was, but not anymore. According to the map above based on Statista statistics from 2016, Sweden had 22.3 McDonald's per 1 million people, beating the rest of the EU.
However, the number of McDonald's in Sweden has been decreasing steadily since 2016, according to Statista statistics. Meanwhile, it has increased in most other European countries. There are only 18.6 McDonald's per million people in Sweden in 2021, while France is topping the leaderboard with 22.5.
So now you know what to tell your friends next time you hear the "fun fact" again. It might not make you popular, but you will all be right. 😉
Made with 💛 in Stockholm
Enjoyed this news round up? Think of a friend that would like to learn more about Sweden too. Please share the love with them.
Get to know Sweden in 5 minutes - for free
Get daily email of news roundup in Swedish, English, Chinese, or Spanish.