💃🏻 Permission to dance
To: Riedia Readers
---
Good morning! Today is Wednesday. In today's first edition of the Riedia Sweden Summer Weekly newsletter, we're covering:
Sweden's long (and often tricky) relationship with China, the end of Swedish "dancing permits," and the reopening of Gröna Lund.
—Julia Powanda, Viviana Levet
---
China-Sweden relation
It's no secret that Sweden is striving to be an integral player in the green movement, with the relatively young Swedish company Northvolt looking to expand its green battery production in the coming years. At the same time, Scania has announced plans for a new factory in Södertälje and Volvo AB made its intention to break into the battery production industry with the establishment of a new plant in Mariestad.
China in the way?
But ramping up production may prove to be more difficult than these Swedish companies anticipated. The battery production process is highly demanding in terms of resources, requiring dozens of different metals and minerals—mostly aluminum, nickel, and graphite—primarily sourced from China.
Declining exports
Despite the projected growth of battery production in Sweden, China's exports of metals and other necessary materials have actually decreased in recent years, and this reduction seems to be intentional. There is no formal ban on exporting to Sweden, but one Chinese export has reported being "informed by the authorities that export licenses to Sweden are no longer issued."
Motive?
Some point to Sweden and China's sour relations as a motive behind why the Chinese government might be trying to sabotage Sweden's battery production. But another reason? Business.
China holds a firm grip on the worldwide battery market and exhibits hesitance when it comes to relinquishing its market share. Political factors are also at play. Beijing often uses trade as a political tool, what researchers call "weaponized interdependence."
So Swedish leaders are tasked with what to make of this situation and how to move forward.
Read more on Dagens Nyheter
---
Society
A little-known fact about Sweden is that you used to need a permit to dance. In fact, it wasn't until July 1st that the permit system for dancing was done away with in Sweden.
Background
Dancing permits, also known as "dansstopp", came about in the 60s and 70s when society was concerned about the morality of dancing. Authorities worried that late-night dancing could lead to crime and promiscuity, and to combat the perceived danger authorities heavily regulated and limited the hours in which people could dance in public. Obtaining the permits themselves also proved to be challenging, and non-compliance with the regulations carried the risk of fines and venue closures.
Just in time for summer
To the relief of many, all of this changed on July 1st when the permit system was abolished. Martin Axén, who runs the bar and cultural venue Grand in Malmö, says that doing away with the system will free up the time he had to spend on bureaucratic paperwork, complaining about the inefficiency, and long processing times of the permit.
On the other hand, DJ and producer Kornél Kovács thinks the dance permit had only a minor impact on the nightlife industry, "It is obviously an outdated and absurd law that needs to be removed, so this is a step in the right direction. But there are still major legal, societal, and political obstacles to creating a good nightlife in Sweden."
Kovács says he considers alcohol legislation to be a more significant obstacle to a thriving nightlife compared to the now obsolete dance permits.
Read more on Dagens Nyheter
---
Gröna Lund accident
On July 3rd, Gröna Lund reopened to the public for the first time since the fatal roller coaster accident. Rides initially remained closed but reopened today.
Ongoing investigation
The CEO of Gröna Lund, Jan Eriksson, announced ahead of the weekend that the park wanted to provide an opportunity for the public to visit the amusement park for a "peaceful moment," also adding that their thoughts were with the affected families.
Eriksson also expressed understanding for why some might be hesitant to get back on the rides, "of course, it will feel special to reopen after an event like this. We try to be as transparent as possible in what we do to regain the guests' trust." So far the park has not provided any details on the fate of the rollercoaster Jetline's future, but did say it would be out of service until the accident investigation could be completed.
After the fatal accident on June 25th Gröna Lund granted inspectors access to the park's rides to conduct inspections. The inspection company Dekra will carry out the inspections, but it may take over a year before the Accident Investigation Board completes its report.
Read more on Mitt i
---
What else is happening in Sweden?
⛴️ The Danish Accident Investigation Board has concluded that the incident involving two individuals falling into the water from a ferry between Poland and Sweden was not an accident, according to Chief Oessur Jarleivson Hilduberg. Initial reports suggested that the mother jumped into the water after the boy fell overboard, but surveillance footage did not confirm this version of events.
🇸🇪 The burning of the Quran in Stockholm has caused outrage, leading to condemnation from the Pope and the Organization of Islamic Cooperation. Saudi Arabia has summoned the Swedish ambassador to express a formal protest, while several other countries have also shown disapproval of the incident and Sweden's Ministry of Foreign Affairs has denounced the act as offensive and provocative. More protests are anticipated after the Quran burning outside Stockholm's mosque.
🚂 The Swedish Transport Administration has closed parts of the Mälarbanan, including Spånga station, until August 14th for work on the Huvudsta-Barkarby section. Replacement transportation will be provided by SL and SJ. This closure is part of a 12-year project to expand the railway between Tomteboda and Kallhäll. Additionally, commuter train traffic between Stockholm City and Bålsta will be closed from July 1st to August 14th for track work.
---
The world through Sweden's lens
🪖 Secretary-General of NATO, Jens Stoltenberg, has been reinstated and will remain in his position until October 1, 2024. Stoltenberg has recently expressed his intention to step down from the position, but was reinstated after member countries failed to agree on a successor. Stoltenberg's mandate has been extended multiple times in the past, with the latest extension in 2022 due to the invasion of Ukraine. The formal decision on NATO's Secretary-General will be made at the NATO Summit in Vilnius in July.
🇳🇴 Multiple people were injured in an attack in central Oslo using a machete, but it was not related to the nearby pride gala, according to the police. The incident occurred during a brawl outside a restaurant when someone tried to enter. The suspect, who is known to the police and possibly knew one of the injured, was arrested and also sustained injuries.
🇫🇷 Over 600 people have been arrested and more than 200 police officers injured as riots and violence continue to escalate for the (third consecutive night) in French cities due to the shooting of 17-year-old Nahel Merzouk by a police officer, sparking widespread anger and protests under slogans such as "justice for Nahel" and "the police are everywhere, justice is nowhere". President Emmanuel Macron has condemned the violence but has not yet declared a state of emergency, while several municipalities have imposed curfews in response.
---
Finance
🚗 Electric car sales in Sweden have lost momentum, with a decrease of over two percent in new car registrations compared to last year, according to Mobility Sweden. Although rechargeable cars accounted for over 59 percent of new registrations in June and 58 percent in the first half of the year, sales are expected to decline in the second half. Mobility Sweden has revised its forecast for the share of electric cars down from 40 to 35 percent due to economic factors and the removal of the climate bonus.
💸 Getswish, the company behind Sweden's popular payment service Swish , reported impressive volumes in its annual report. Last year, a total of 918 million payments were made with a value of 451 billion kronor, with half of the payments being made to companies, organizations, and associations. The company's revenue increased to 248 million kronor, while its operating profit reached 18 million kronor, and the operating margin improved to 7 percent.
---
Tech
🎥 Spotify is reportedly in talks to introduce a video feature to the app, including full-length music videos, which would put them in direct competition with YouTube and TikTok. The company has been exploring ways to monetize beyond music, already allowing artists to upload short videos, introducing a TikTok-like feature, and boasting over 100,000 podcasts with published videos. Spotify has chosen not to comment on the information.
📱Elon Musk faces backlash as Twitter implements limits on the number of posts users can read per day. Initially proposed limits were 600 for unverified accounts and 6,000 for verified accounts, but Musk eventually increased them to 1,000 and 10,000. This change in rules led to over 7,500 users reporting issues and the trending of hashtag #Twitterdown .
🚀 The European telescope Euclid has been successfully launched from Cape Canaveral in Florida, USA, on a Falcon 9 rocket by Space X. After a month-long journey, Euclid will join the James Webb Telescope at the second Lagrange point, where it will create the largest map ever of the universe, shedding light on the 13.8 billion-year-old history of the universe and addressing the mystery of the unknown 95 percent.
---
Events
🎥 This summer, Rålambshovsparken in Stockholm aims to beat last year's record of 8000 visitors at the "Open-Air Cinema by Big Crowd Factory" event in Tantolunden. On July 8, 21, and 22, there will be a free party in Rålis featuring DJs, food trucks, live music, and movies shown on an 85-square-meter screen. Additionally, in August, the Stockholm Film Festival's summer cinema will return to Rålis, offering a free outdoor cinema experience on a 90 square meter screen, with films themed around Heroes in the Park, including Alien - Resurrection and Dirty Dancing. There will also be a wine and beer area on site for the first time.
🌿 Gothenburg's botanical garden is celebrating its 100th anniversary! The anniversary will be commemorated this Saturday, July 8th with music, speeches, and guided tours. The garden's expert Gunnel Carlson will offer visitors a guided tour of the property and offer a deep dive into the garden's history.
🏳️‍🌈 Malmö's pride is kicking off today! Malmö Pride will be hosting a queer art workshop where everyone can share their experiences and express themselves artistically. Drawing and painting materials will be provided, and you are also welcome to bring your own art materials. Not into painting? There will also be a pride costume workshop today! Visitors are welcome to bring their own fabric and work on their own pride creations. Sewing machines and thread will be provided. Both events will run from 1-5 at the Pride House, Scandic Triangeln.
---
Discover Sweden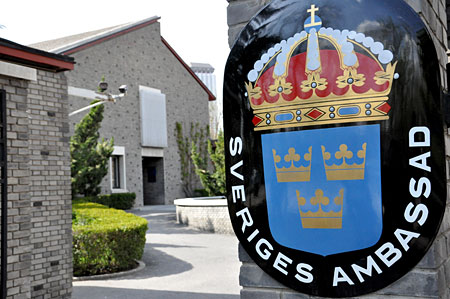 Despite recent "rival relations," Sweden and China actually have a long history of diplomatic relations. Sweden was the first country in the world to establish an official diplomatic relationship with China. This significant event took place back in 1950 when Sweden recognized the People's Republic of China as the legitimate government of China.
The decision to establish diplomatic ties with China was a bold and groundbreaking move by Sweden. At that time, many Western countries were hesitant to engage with the newly formed People's Republic of China due to political concerns and the ongoing Cold War dynamics.
Sweden's decision to take this step played a crucial role in opening doors for China's engagement with the international community. It paved the way for other countries to follow suit, ultimately leading to China's integration into the global diplomatic arena.
by Julia Powanda/Riedia