In Denmark, the trial of a Nigerian man is under trial for putting Danish soldiers' lives in danger in a firefight, but Nigeria wants him released and Danish soldiers brought to justice.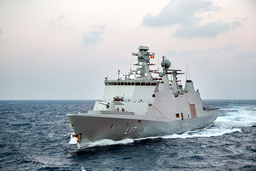 It was last November that the Danish military vessel Esbern Snare was attacked by supposed pirates during a patrol mission in the Gulf of Guinea. Four attackers were killed in the firefight and the defendant was injured and taken to Denmark for care.
Nigeria's Foreign Ministry demands that he be released and that Denmark apologize for the events, writes the Weeknavisen.
"In addition, we demand that the Danish naval personnel involved in killing the Nigerians be brought to justice", says Nicholas Ella, Head of the Legal Department of the Nigerian Ministry of Foreign Affairs, to the newspaper.
He adds that the Nigerian Navy questions the Danish version of the event.
No Danes came to injury and according to the Danish defense the shots were fired in self-defense.
According to the Weeknavisen Nigeria at a meeting with the Danish Ministry of Foreign Affairs in May called for the alleged pirate to be extradited. Danish the Ministry for Foreign Affairs confirms that it is aware of the wishes of Nigeria, but does not wish to comment otherwise on the talks between the countries.