More than 20,000 people died from this summer's extreme heat in western Europe, according to a summary by four countries' health ministries.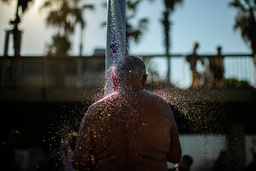 This year's three summer months were the warmest on record, according to the EU agency Copernicus. Among other things, new heat records were set in Spain, with Seville and Cordoba both experiencing 44-degree heat. And the heat has cost lives.
"Heat waves are becoming increasingly common and intense as the earth warms up, so we can expect more and warmer heat waves," says Eunice Lo at the University of Bristol, one of the researchers behind a new study within the international network World Weather Attribution (WWA), to Bloomberg.
In France alone, over 10,400 have been estimated to have died during the summer's high temperatures. A quarter of the deaths occurred during three short heat waves, according to figures from the Health Agency SPF, writes The Guardian. In the regions most affected, the excess mortality rate was more than 20 percent.
In both Germany and Spain, the excess mortality due to the heat is estimated to be over 4,500 people, and in England and Wales 3,200.
The WWA scientists note that the high temperatures "would have been almost impossible" without climate change and warn that the public's relative ignorance of the climate risks costing even more lives.