Favorite Brazil entered the World Cup against Serbia.
Tottenham star Richarlison was the big hero, scoring twice in the 2-0 win.
One was also a real piece of art that will be talked about for a long time.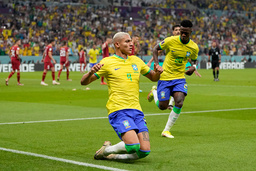 The first 45 minutes were not a collective show from top-tipped Brazil. Instead, it was a positional war that unfolded against hard-fighting Serbs.
Goalless in half-time and after an hour of play. Then Brazil woke up.
Alex Sandro dotted the post, but shortly later Richarlison would find his way.
Big star Neymar dribbled and dribbled before finding Vinícius Júnior. The Serbian the goalkeeper passed the shot but left the return that Richarlison could easily shave in to 1–0.
But Richarlison wasn't finished there.
With more than a quarter left, a long lyre into the offensive penalty zone. Richarlison received the thigh and then kicked the scissors in 2–0, completely untraceable in the goalkeeper's right hand side.
The art park was questionable one of the world's finest goal so far.
For the rest of the match, Brazil were able to play to their full potential and it was far closer to more penalty goals than a Serbian goal.
Next Brazil meets Switzerland while Serbia is set against Cameroon.