Football World Cup is played in Qatar – without Sweden that failed in the playoff.
The national team captain Janne Andersson is not impressed by the choice of host country.
"It's fucked up that the World Cup goes there", he says.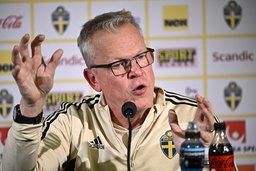 The 2022 World Cup has so far been edged by controversy.
The decision of the International Football Association, Fias, to stop the famous 'OneLove' armbands and the attention of President Gianni Infantinos at a press conference have caused many to rage.
Last in the line? Sveriges the national team captain Janne Andersson.
"You have to question one such as Infantino, who sits at the top. Should he be allowed to continue to lead this with those statements, and in the way he acts? Do we want that?, he asks in C More's studio."

"According to my values, it's not wise for him to sit and decide."
Infantino said, among other things, that he "feels homosexual and disabled today" in an attempt to sympathize with marginalized groups who feel discriminated against by Qatar's legislation, where homosexuality, for example, is illegal.
Andersson doesn't like the World Cup playing in Qatar at all.
"It's hell that the World Cup goes there. What I can think is annoying is that the world hasn't reacted before. We've known about this a lot of years, but there are very few who have reacted. If you'd reacted strongly before, you might have been able to change the decision", he says and continues:

"Maybe I'm naive if I think so, but it can't happen like this."