Hungary says yes to Sweden and Finland's NATO application only next year, Hungarian Prime Minister Viktor Orbán confirms.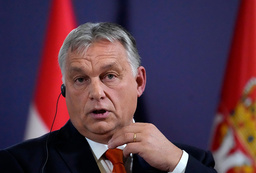 "As we have previously informed Sweden and Finland, Hungary supports these two countries' membership of NATO. It will be on the agenda during the first parliamentary session next year," says Viktor Orbán at a press conference in Slovakia according to the news agency AFP.
The Hungarian Parliament will meet in February 2023.
Only two out of 30 ratifications remain before Sweden and Finland can become full NATO members.
While Turkey's President, Mr Erdogan, repeatedly criticizes Sweden for not doing enough to combat what he considers to be terrorism and delaying his approval, it sounds different from the Hungarian Government.
According to Swedish ministers, they have received assurances from Hungarian colleagues that ratification is expected by mid-December.
However, after the European Commission has decided to continue freezing over EUR 13 billion of EU aid to Hungary, Viktor Orbán does not seem so keen to speed up the NATO process.
It is about EUR 5.8 billion that Hungary has not yet been paid out of the EU Recovery Fund after the corona pandemic and EUR 7.5 billion stopped from other EU funds because Hungary is not considered to comply with the principles of the rule of law.
The Hungarian economy is in great need of the money and it has been speculated that Viktor Orbán could use the ratification of Sweden's and Finland's NATO applications as hostages to free EU aid.