Since the Riksbank broke the zero interest rate last spring, mortgaged households have lived in a completely new reality.
"There are households that have more than doubled their interest costs," says SPP's savings economist Shoka Åhrman.
Until this spring, it could be about a three times higher variable interest rate in one year.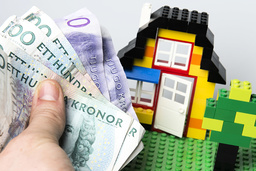 Now the Riksbank raises the interest rate by an additional 0.75 percentage points to 2.50 percent. Already before today's announcement, the cost of mortgages had doubled since last spring, for those with variable mortgage rates.
One rule of thumb is that the variable average interest rate of the banks is approximately 1.50 percentage points higher than the policy rate. If the Riksbank is correct in its own assessment, that the interest rate will be up to nearly three percent in the coming spring, the variable rate of living will thus rise to somewhere around 4.50 percent, which can be compared to approximately 1.50 percent in the spring – three times higher in one year.
This means that the variable million loan has gone from costing approximately SEK 1,250 per month at the beginning of the year to cost about SEK 3,750 on the spring side, this before the interest deduction is made. The five million loan can cost SEK 18,750 per month next year. Including interest deduction it will be a little less expensive – then the one- and five-million loans are expected to cost more than SEK 2,600 and more than SEK 13,000 per month respectively.
Since the Riksbank raised the policy rate above zero in May, the situation for households with loans has changed significantly, says savings economist Shoka Åhrman.
"But it's hard to say exactly how hard the households get, it also depends on how much of the loans you've had on the variable interest rate", she says.
Tie the interest?
The interest rate market, which controls the tied interest rates, has calmed down in recent times. And the gap between the variable and tied loans has narrowed, says Shoka Åhrman.
"They're closer to each other today."
Many have probably, according to Åhrman, landed in that they think it is now too late to bind the loan. But then you should also bear in mind that the variable interest rates are likely to rise to around five percent next year, she believes.
"Are you very low borrowed, maybe an older couple with good income, well then maybe you don't want to tie up."
If you are heavily mortgaged, perhaps a family with large expenses in general, and are hit hard by high food and energy prices, you may need to think differently.
"Then it can be nice to tie up parts of your mortgages for three or five years, if you are going to stay for so long."

"Then maybe you can even get a fair discount on that part and end up below the variable interest rate."
"At the same time, you should be careful about tying just because you think that the variable interest rate should continue up at the same rate," Åhrman says.
"We believe that the Riksbank will at some point next year slow down the pace of its interest rate increases."
Shoka Åhrman is a savings economist at SPP. Archive image.
Complex to provide advice
The foundation is always to start from your own situation when you choose between moving and tied mortgages, says Åhrman.
"It is complex to give advice on this today," she says.
In the past I have always been able to say that "go to the bank, press the banks, haggle your mortgages". Today the margins and space are not as large.
Nor does it always have to be about the crown and the crown in the choice between tied and mobile.
"It can also be one's own sense of security. We are quite vulnerable with increased food prices and fuel prices."

"If we can check this part (the mortgage) of your finances in the coming years when it's a little more messy and uncertain it can give some households a security."