"Anti-Russian hysteria". This is what it sounds like when the Russian Ministry of Foreign Affairs is now commenting on the arrest of two people suspected of gross illegal intelligence operations in the Stockholm area.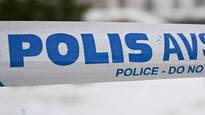 Persons who lives at the address at the site of the raid was born in Russia and reportedly in several media it is a Russian couple in their 60s who have been arrested.
"Russia has not received any official information about this from the Swedish authorities", says Maria Zacharova, spokesperson for the Russian Ministry of Foreign Affairs, at a press conference on Thursday according to the news agency Interfax.

"According to our approach, reporting on this in Swedish media is part of a broader anti-Russian hysteria in the Western world. The russophobia campaign has developed into a real spy mania in some countries", she says.
Armed Forces Helicopters
It was early on Tuesday morning that the Swedish Security Service struck at a wealthy residential area Stockholm area. Two helicopters from the Swedish Armed Forces were used in the operation, where several policemen entered the apartment at the same time and arrested two people.
One of the persons was arrested for serious illegal intelligence against Sweden and against foreign power. The other person was arrested for aiding the same. Both refuse to commit a crime.
Long Crimes
According to documents submitted by the prosecutor Henrik Olin to the District Court, the crime against Sweden has continued from the summer of 2014 until Tuesday's arrest. The crime against foreign power continued from January 2013 until the arrest.
"What we can say is that it's serious suspicion. Grove illegal intelligence is crime that threatens Sweden's security. There we have from the Swedish Security Service a mission that is about protecting Sweden and democracy. This includes preventing Sweden from being a platform for foreign power to conduct illegal intelligence activities", said Gabriel Wernstedt, press secretary at Swedish Security Service, to TT on Tuesday.
By Friday at the latest, the detainees must be arrested or released at large.