Born in Cameroon, represents Switzerland.
It was an emotional Breel Embolo who made the match's only goal when the Swiss won with 1–0 against Cameroon in the World Cup in Qatar.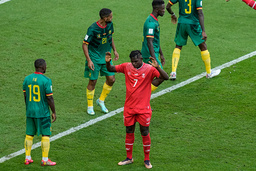 Embolo, everyday in the French Ligue 1 club Monaco, was completely alone in the penalty zone when he sent in 1–0 on a cross from the right wing in the 48th minute.
And it was emotional for the 25-year-old who chose not to celebrate, but instead raised his hands to heaven, almost as if he were apologizing.
"It's pretty special for him considering his connections to Cameroon, I'm very happy that he plays for us. He's always in the right place when you need him", says Switzerland goalkeeper Yann Sommer according to AFP.
Embolo was born in Cameroon's capital, Yaoundé, but grew up in Basel. His father still lives in Cameroon.
Barely 20 minutes after the 1-0 target, the attacker was close to making his and Switzerland's second goal, but that time it didn't work out.
Cameroon didn't miss any chances in the match, but couldn't break the Swiss, who won with a goal.
The other nations in the group are Brazil and Serbia.
Switzerland, Brazil and Serbia were also in the same group at the last World Cup, but the fourth nation was not Cameroon, but Costa Rica.
For Switzerland, it came down to Sweden in the Round of 16 at Russia 2018.