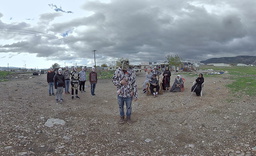 The Greek artist Loukia Alavanou's artwork "Oedipus in search of Colonus" is coming to Stockholm and will be shown at the art gallery Accelerator in Stockholm this spring, according to a press release.
The work uses virtual reality technology to move the visitor to a Greek town populated by Roma and makes it a playsite for a modern version of Sofokle's ancient drama "Oedipus i Kolono".
The work has previously been shown at the art biennial in Venice, where it received a lot of attention.