The spy trial in Stockholm District Court will begin on Friday.
The hearing entails specific safety requirements – both on court staff and technical equipment.
"Everything aims to ensure that the information is strictly confidential is not passed on," says Måns Wigén, Chief Councillor.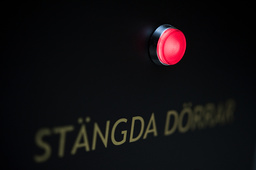 The trial in the old security hall of the Stockholm District Court starts on Friday, Måns Wigén confirms for TT.
Two brothers, 42 and 35 years old, are accused of spying on Sweden on behalf of Russia for ten years. Through the older brother, who worked at Swedish Security Service and within the Swedish Armed Forces, they are suspected of having come over and handed over information that in the wrong hands is considered a threat to national security.
The sensitive nature of the evidence means that large parts of the trial will take place behind closed doors. In addition, the district court and Swedish Security Service take several measures to prevent the leak of classified information.
Difficulty in bugging
Chief Councilman Måns Wigén, who will lead the hearing, states for Sveriges Radio that you can use special computers and microphones that are difficult to listen to.
"These technical measures may be necessary to prevent data from coming out on a technical basis," he says.
All court staff involved in the trial – President, Councillors, Protocol Officers and Court Officers – need to have security clearance.
Strict confidentiality
The staff are also given special instructions on how to handle the information they receive during the negotiations. Exactly what this means, or what other measures are taken, Måns Wigén does not want to answer.
"I can't go into that, but everything is aimed at ensuring that the information there is strict confidentiality about is not passed on", he says to TT.
The Security Service is also silent about the security arrangements surrounding the trial, as well as which actors might have an interest in bugging it.
"When it comes to our possible involvement in security work, regardless of what it's about, there's nothing we can talk about", says Fredrik Hultgren-Friberg, press speaker at Swedish Security Service.