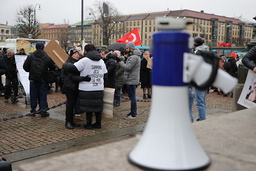 This spring, a disinformation campaign was launched against the Swedish social services. False information was spread in various social media and Arabic-speaking channels, including the fact that the social services kidnap children of people with immigrant backgrounds.
Recently, disinformation has been re-disclosed, including at Tiktok, reports SVT News.There is a video where a man tells that he has been informed that other people bought weapons and explosives to commit an attack on social services in Gothenburg.
Now the four social services in Gothenburg have jointly filed a police report, reports SVT Väst.
"It's a threat to democracy", says Ing-Marie Larsson, Head of Department of Social Administration Nordost in Gothenburg, to SVT.
There has also been a mailing to all employees in the social services in Gothenburg.
"It is important for us to get this issue across in our organizations.This disinformation campaign harms us", says Ing-Marie Larsson.