Canada shouted for penalties – but the referee team in the World Cup waved off the situation.
Former Swedish Grand Referee Jonas Eriksson is critical.
"For me it's a breach of Fifa and VAR protocol", says Eriksson in SVT.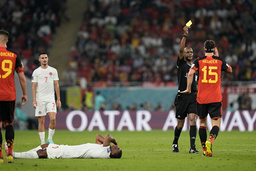 For the first time since 1986, Canada is a member of the World Cup.
In the first group game, Canada was set against a star-packed Belgium with Eden Hazard and Kevin de Bruyne from the start.
Canada was clearly better and dominated the first half. In the tenth match minute they also got a penalty. Big Star Alphonso Davies stepped forward – but the goalkeeper Thibaut Courtois stood for a great rescue.
Then it became dramatic when Canada did not call for one, but two penalties. First Jan Vertonghen stamped Tajon Buchanan in his own penalty zone and minutes later Axel Witsel did the same on Richie Laryea.
The result? Zero punishes. Zambian chief judge Janny Sikazwe waved away the situation – despite massive Canadian protests.
"Fifa is pretty clear"
In SVT's World Cup studio, former judge Jonas Eriksson, who has previously convicted the World Cup, European Championship and Champions League, was critical of the referee team's handling of the situation.
"That it won't be penalty despite the help with the video pictures we have...I have really hard to understand it. For me it's a breakdown of Fifa and VAR protocol. For me it's clear", says Eriksson and then develops its reasoning:

"The judge doesn't know what to do, he looks around and needs help. I think we have a chief judge who is insecure. But WAS there to correct obvious mistakes and here you should go in and help."
Finished for Sikazwe?
Judge Janny Sikazwe made big headlines last winter when he condemned the African championship and chose to blow off the meeting between Tunisia-Mali already in the 85th match minute. He had, according to his own statement, been hit by sunstroke.
Jonas Eriksson believes that Janny Sikazwe has judged his last game during this year's Qatar World Cup.
"Fifa is quite clear and merciless: If you don't do as required, you won't have to judge any more."
Belgium won match with 1-0.