Republican Senator Lisa Murkowski managed to be re-elected as a representative of the State of Alaska in this year's midterm elections.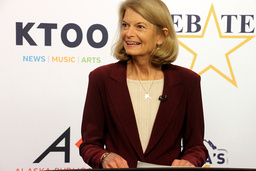 Murkowski's main opponent was the party colleague, and Trump-supported, Kelly Tshibaka, but also the democrat Pat Chesbro.
"I am honored that Alaskans – from all regions, backgrounds and party affiliations – have once again given me the confidence to continue working with them and on their behalf in the U.S. Senate," says Murkowski in a statement.
Since none of the candidates in Alaska gained their own majority, i.e. More than 50 percent of the votes, a ranking system was used to appoint a winner. So when Chesbro's votes were removed and voters' second elections were included in the calculations, Murkowski 54 percent of the votes.
Ranging order
This is the first time that the state has used the ranking system and that is also why it took a while to appoint a winner after the election held on 8 November.
Tshibaka congratulated Murkowski in a statement that was posted on her website but at the same time she covered the loss of the new system.
"The new electoral system has been frustrating for many people in Alaska, because it was undoubtedly designed as a protection program for the current rulers, and it clearly worked as intended," she says.
In this case, however, the new electoral system did not matter, as Mr Murkowski received more votes than Mr Tshibaka even in the first round.
Trump critics
Murkowski was the only republican in the Senate who stood on the ballot paper in this year's midterm elections who voted to condemn Trump during the impeachment process last year. Trump was not convicted, but the former president responded by supporting her counter-candidacy.
On the other hand, the Republican and former vice-presidential candidate Sarah Palin, who volunteered in the Alaskan elections for a place in the House of Representatives, do not seem to have succeeded, reporting American media.
She challenged the democrat Mary Peltola, who in August became historic when, as the state's first representative from the indigenous people, she replaced the late congressman Don Young (R).
According to NBC News, Peltola received no more than 50 percent of the votes. However, Peltola led by over 20 percentage points over Palin so when the candidate in third place, Republican Nick Begich, disappeared from the starting field it gave Peltola enough votes to win.