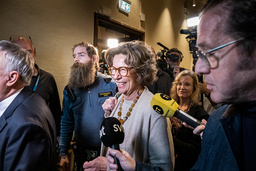 The trial against Birgitte Bonnesen, former CEO of Swedbank, goes into the final term on Thursday when the prosecution presents its final statement.
Birgitte Bonnesen is accused of gross fraud and disclosure of inside information and the trial is now in its seventh and final week. She is at risk of six years in prison.
According to the indictment, Birgitte Bonnesen has spread misleading information about Swedbank's measures to prevent, detect, prevent and report suspected money laundering in the bank's Estonian operations.
She herself has always completely denied the charges.
It was the "Stand Review" that revealed in January 2019 the suspected money laundering in Swedbank's Estonian operations. During the trial, Birgitte Bonnesen described the disclosure as a shock.
Facts: Swedbank and money laundering
On 4 October, the trial of Swedbank's former CEO Birgitte Bonnesen began. She is accused of gross fraud or gross market manipulation. Birgitte Bonnesen is also charged with disclosure of inside information.
It was in February 2019 that SVT's "Stand Review" revealed that Swedbank may have been used for money laundering in the Baltic countries for many years. At least SEK 40 billion has been sold between 50 suspicious accounts.
After the disclosure, Birgitte Bonnesen was fired and succeeded by Jens Henriksson. The Chairman of the Board, Lars Idermark, left his post and was succeeded in June 2019 by former Prime Minister Göran Persson.
On 18 March 2020, the the Financial Supervisory Authority (FI) ordered the bank to pay a sanction fee of SEK 4 billion. The money laundering practices had major deficiencies and the bank withheld and provided misleading information to FI according to the Authority.
Sources: SVT and Swedbank