The number of new covid cases in 24 hours has reached a new peak in China, according to official figures.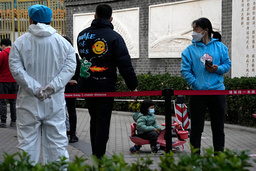 The spread of infection of the virus has in recent weeks taken off in China, where the authorities are trying to prevent the spread with rapid shutdowns, mass testing and travel restrictions.
According to health authorities, over 31,400 new cases were confirmed in the country during Wednesday, of which over 27,500 were reported asymptomatic.
However, the number is relatively low in terms of China's population of some 1.4 billion people.
On Wednesday, films from protests were distributed at China's largest iPhone factory in Zhengzhou in central China. Employees who were banned from leaving the factory area due to covid restrictions had enough. On Thursday, it is announced that parts of Zhengzhou have now completely closed.
Accommodation in the central parts of the city cannot leave the area without a negative covid test and permission from local authorities. In addition, residents are invited to stay home.
The protests are also reported to have been about employees not receiving promised bonuses.
The company Foxconn, which runs the factory, apologized on Thursday and said that the bonuses disappeared because of a technical error but that all employees would get the money they were promised.
"We apologize for an input error in the computer system and ensure that the actual salary is the same as agreed," says a statement from the company.