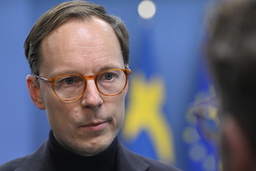 There will continue to be no training in Swedish for immigrants (SFI) for Ukrainian refugees in Sweden. This says the new government for Swedish Radio Ekot.
The government will instead invest money in the education "Swedish from day one" which is a voluntary education held by folk high schools and study associations, says Minister of Education Mats Persson (Liberals).
"The most important thing for the government is that the right to learn Swedish exists. Then exactly what form it is, you can discuss it", says Mats Persson to Ekot.
To date, almost 50 000 Ukrainian refugees have been granted a residence permit in Sweden through the mass refugee directive under which they are not entitled to SFI.