Belgium was in trouble against Canada in the World Cup.
Then Michy Batshuayi stepped forward.
The striker became a hero when he scored the only goal of the game.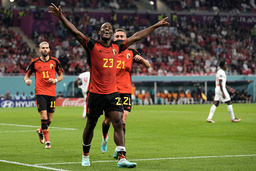 Canada, which last participated in the 1986 World Cup, started clearly better and created several hot scoring opportunities. Most recently came the big star Alphonso Davies whose penalty was saved by Belgium's Thibaut Courtois.
Then Canada continued to press for a management goal, but without results. At the same time, they called for not one, but two penalties that from television images looked clear-cut, but the judge waved away the situations.
Then Belgium awoke – and took the lead. Toby Alderweireld sent a long ball that Michy Batshuayi took down and pounded there 1–0.
In the second half the pace went down and Canada had the most ball, but never came to any hot positions and the match ended with a Belgian win, 1–0.
In the gallery was the Belgian Foreign Minister Hadja Lahbib. According to AP, she had the "OneLove" armband around her arm when she met FIFA's Chairman Gianni Infantino.
The "OneLove" armband has been the topic of discussion this week after the International Football Association, FIFA, forbade players from using it.