The German men's football team chose to cover their mouths during the team photo before the kick-off of the World Cup opener against Japan.
A protest against the International Football Federation (FIFA).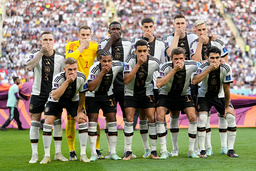 The Germans have been very upset after facing sporting consequences from Fifa if captain Manuel Neuer had chosen to wear the famous "OneLove" armband.
For Wednesday's premiere against Japan, the German team marked with conspicuous silence.
"It was a signal from the team, from us, that Fifa gags us", says Hansi Flick, Germany's the national team captain, after the game according to AP.
On the mandatory team shoot, which was not shown on television, all the players in Germany's starting eleven put their hand to the mouth. Shortly thereafter the German national team confirmed that the gesture was directed against Fifa and the organization's attempt to silence the players.
"Of course it's important for us to make a position like this. I think it was the right thing to do, to show the people that we tried to help where we can, but Fifa doesn't make it easy for us", says Kai Havertz according to AFP.
"Want to make our voice heard"
"We wanted to use our captain's armband to stand up for the values we have in the German national team: diversity and mutual respect. Together with other nations, we wanted to make our voice heard," writes the national team on Twitter and continues:
"It wasn't about making a political statement – human rights are not negotiable. It should be taken for granted, but that's still not the case. That's why this message is so important to us. To deny us the armband is the same thing as denying a vote".
The German newspaper Bild stated on Tuesday that the German Football Association (DFB) is considering taking legal action against Fifa after the decision to ban the 'One Love' armbands.
Criticism from the highest place
Steffen Hebestreit, spokesperson for Germany's Chancellor Olaf Scholz, said on Wednesday that Fia's ban was very unfortunate and that human rights cannot be bargained. At the same time, the German Home Secretary Nancy Faeser, on the spot to watch the game against Japan, called Fia's decision a "great mistake".
Earlier in the day, the Danish national team – together with Germany, one of seven countries that planned to play with the "OneLove" armband during the World Cup – held an extraordinary press conference where they called Fifa's actions unacceptable.
"Normally football unites people, but this is not the case here", said CEO Jakob Jensen of the Danish Football Association.