The biggest victory of the Qatar World Cup so far is a fact.
A young Spain has a dream start in the World Cup.
Costa Rica was completely crushed with 7–0.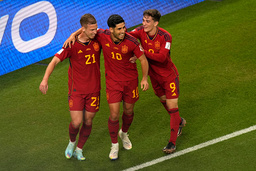 There was never any talk about it.
Spain completely dominated and after ten minutes it took the lead.
Midfielder Gavi passed to Dani Olmo who chipped in 1-0. Minutes later, Marco Asensio made it 2-0 and soon after, Spain completed the rout when Ferran Torres coolly rolled in 3-0 from the penalty spot.
3-0 after 30 minutes.
Spain, with the midfield talent Gavi, 18, and Pedri, 19, continued to dominate and in the 54th match minute Ferran Torres became the two-goal shooter when he set 4–0. Then the result ran off and the match ended with 7–0.
"It was a unique moment. It was very special for me but the most important thing was that the team won", says goal scorer Dani Olmo after the game.
The result meant that Spain took the biggest win of the Qatar World Cup so far. At the same time, Gavi became one of the youngest ever to score in a men's World Cup. Football icon Pele remains the youngest to score in a World Cup. Pele was just 17 years and 249 days old when he scored against Sweden in 1958, according to statistics site OptaJoe.
Spain's 7-0 win is the nation's greatest victory in the history of the World Cup. However, it is not the greatest victory ever in the championship.
In 1982, Hungary defeated Electricity Salvador by 10-1. 1974, former Yugoslavia defeated Zaire (currently Congo-Kinshasa) with 9–0 and 1954 took Hungary another major victory in the World Cup. That time, South Korea was defeated by 9–0.
Facts: Three youngest scorers in the men's World Cup finals
1) Pelé, Brazil, in the 1958 World Cup. 17 years old and 249 days old.
2) Manuel Rosas, Mexico, in the 1930 World Cup, 18 years old and 93 days old.
3) Gavi, Spain, World Cup 2022. 18 years old and 110 days old.