The threat of sporting sanctions for the use of the "OneLove" armband during the World Cup has provoked strong reactions.
Now the Danish Football Federation (DBU) is threatening to leave the International Football Federation (FIFA) unless things change.
DBU also explains that there were more than just yellow cards at stake.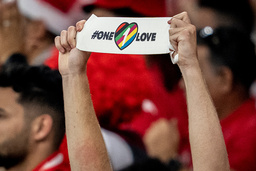 At an extraordinary press conference on Wednesday, the Danish Football Association (DBU) commented on what has happened.
"We wrote to Fifa on 19 September that we wanted the armband at the World Cup, we got no answer. We were at a new meeting on 12 October where we asked for answers, but we didn't. We went to the World Cup without answers and started meetings with Fifa down here", says DBU's CEO Jakob Jensen according to Ritzau.
"Doesn't unite"
First on site in Qatar, Fifa came with information, but they were revised from one day to the next. On Saturday, 19 November, Fifa would have threatened with a fine if the "One Love" captain's bandage was used. The next day it was changed to a threat of sporting penalty.
Fifa's tone should then have hardened even more on Monday, the same day that England would play premiere against Iran.
"On November 21 the situation escalated further when Fifa asked England for an urgent meeting where they made it clear that there would be sporting sanctions with at least yellow cards if the player wore the armband", Jensen says.
Furthermore, Jensen says that it could even be that the captain of the team had been turned off in several games.
"Normally football unites people, but that's not the case here", says Jensen, according to Ritzau.
Does not support Infantino
The chairman of the DBU, Jesper Møller, calls it unacceptable and says that Denmark does not intend to support the chairman of Fifa, Gianni Infantino, at the next presidential election, but Jensen also explains that Infantino has great support from many other countries.
"I have never experienced anything like this. I am disappointed and angry", says Jesper Møller.

"To put our players in a situation like this so short on an important premiere, where you can't use a captain's compartment that we had expected to use, is unacceptable."
Peter Møller, overall manager of national teams, says that the question of withdrawing from FIFA will be raised if there are no changes. But he hopes that things happen in FIFA before you end up there.
Denmark was one of seven European countries that had intended to use the "One Love" armband, as a position for diversity and inclusion, in the World Cup. However, after FIFA's threats, all countries chose to remove the blind.