Croatia received 0-0 in the World Cup premiere against Morocco.
And Luka Modric became the first player in history to play both European Championship and the World Cup for three different decades.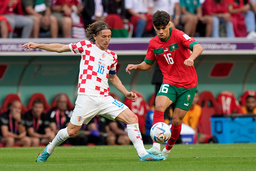 37-year-old Modric made the World Cup debut against Japan in 2006 and now he is therefore historic, writes the Twitter account OptaJoe, which is run by the statistical company Stats Perform.
Four years ago, the midfielder was involved and led Croatia to the World Cup finals in Russia, well there was loss to France by 2-4. The Croatians, twelve on the world ranking, were therefore seen as favorites in the premiere in Qatar when Morocco, 22nd on the world ranking, stood on the other side of the plane.
But Croatia barely managed to create any really dangerous chances, some goal it didn't either, but the match ended 0–0.
"We had hoped to start the World Cup with a victory, but unfortunately it was not so", says Modric according to Sportske Novost.
The other teams in the group are Belgium and Canada.