The World Cup is over for the French left-wing Lucas Hernández.
The 26-year-old has torn the crucifixion, confirms the French Football Association.
"We're losing an important player," says Federal Commander Didier Deschamps.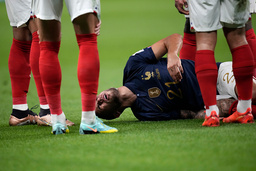 France got a flying start at the World Cup in Qatar, but the 4-1 victory in Tuesday's premiere against Australia was costly.
Bayern München-backen Lucas Hernández limped off the pitch early in the game. After examination with magnetic camera it turns out that the left slope has ripped off the front crucifixion, and thus his World Cup is over.
"As the rest of the team, both the players and the leaders, I am extremely sorry for Lucas. We lose an important player. Lucas is a warrior and I have no doubt that he will do anything to return to the pitch," says France's the national team captain Didier Deschamps in a statement.
Towards Australia, Lucas Hernández was replaced by his younger brother Theo Hernández, for everyday use in Milan.
The loss of Lucas Hernández will be the last straw for Didier Deschamps, who has already lost several star players ahead of the World Cup in Qatar.
Ballon d'Or winner Karim Benzema was forced to cancel after a knee injury and Paul Pogba, N'Golo Kante and Presnel Kimpembe are also not in the squad.