Approximately 52 000 Ukrainian refugees are assessed as seeking protection in Sweden this year, according to the Swedish Immigration Service's latest forecast – which is a decrease from the previous main scenario.
At the same time, the agency warns that there is great uncertainty about how the war in Ukraine can develop.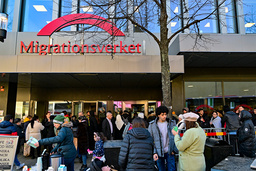 In this year's last forecast, Migrationsverket writes down the main scenario for the number of refugees from Ukraine from 55 000 to about 52 000, according to a press release.
So far, around 49 000 people who have fled Ukraine have sought protection in Sweden, and in the autumn between 300 and 400 applications have been registered a week.
"There are higher scenarios"
For 2023, the Migration Agency's previous main scenario of approximately 15 000 protection applicants remains, but the Authority also notes that more people may leave Ukraine.
"A further escalation of the war cannot, however, be ruled out. We therefore have a higher scenario that means that significantly more, up to 100,000 people, can seek shelter in Sweden during 2023," says Annika Gottberg, planning director at Migrationsverket, in the press release.
However, the Authority considers that the refugees will mainly go to neighboring countries.
Legislative amendment not taken into account
In October, the EU announced the extension of temporary protection under the mass refugee directive to 4 March 2024, and already in the July forecast Migrationsverket started from the extension of the directive for another year, which means that reception costs will increase in 2023 and 2024.
"In the budget proposal for 2023, the Government provides funds according to the needs we have reported for the next two years, which is positive. It is primarily about compensation for municipalities, regions and people who have received protection," says Annika Gottberg in the press release.
The Swedish Immigration Service's forecasts are based on the legislation that applies and any proposals that have been submitted – and future legislative changes announced by the Government in the Tidö Agreement are therefore not taken into account in the forecast, says the agency.
Facts: Number of refugees from Ukraine, according to the Swedish Immigration Service's calculations
Migrationsverket estimates that 52 000 people from Ukraine will seek protection in Sweden in 2022 – a reduction from an earlier estimate of 55 000 people.
So far, some 49 000 people from Ukraine have sought protection in Sweden.
As far as 2023 is concerned, in its main scenario, the Migration Agency estimates that 15 000 people from Ukraine will seek refuge in Sweden.
In a higher scenario, the agency calculates instead that the figure can land at 100 000 people. In a lower scenario, the figure is instead 8 000 people.
Source: Migrationsverket.