France got a dream start in the World Cup.
Ruling world champion turned and won with 4-1 against Australia.
Olivier Giroud scored two goal and simultaneously tangled legend Thierry Henry's goal record – both have now scored 51 national goals.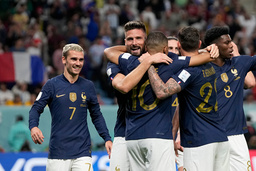 Australia shocked France already after ten minutes in the team's opening match in the World Cup in Qatar when Craig Goodwin thundered 1–0 from close range. In the same situation, the French left-winger Lucas Hernandez went on a injury and was forced to a prey. His brother, Theo Hernandez, replaced.
But France rose.
First came the receipt through Adrien Rabiot and minutes later put Olivier Giroud 2-1. The turnaround was completed.
In the second half, the world champion from 2018 continued to dominate. Kylian Mbappé entered the goal protocol when he set 3-1 and a few minutes later Olivier Giroud became a two-goal shooter when he scored 4-1, which was also the end result.
With his two goal tangade Olivier Giroud goal record in the national team. Now both he and French legendist Thierry Henry stand on 51 national battles made. Giroud is thus a goal from being alone best French national scorer ever on the men's side.
On the women's side, Eugénie Le Sommer has made 86 goal at 175 international matches.