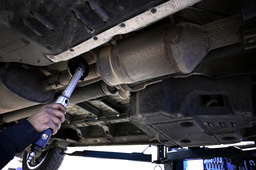 A wave of catalytic converter thefts swept across Västernorrland this weekend, the police say. About 20 car owners have so far reported thefts to the police.
The catalyst cleans the exhaust gases of a car and consists partly of precious metals, the price of which has skyrocketed recently. According to the police, it is about platinum, palladium and rhodium.
It's those metals that make the thief's fingers itch.
The police list on their website a series of tips to make it more difficult for the thief. Among other things, car owners are asked to park in a garage or in a lighted place, to install a tilt alarm that goes off if, for example, a jack is used to lift the car, and even mount protection over the catalytic converter.
Car owners are also encouraged to request advertising blocking to make it more difficult for thieves to map the cars and to ensure that the change of ownership is registered when selling a car.