Suspended parliament, judges with heatstroke and stuffed match stands.
Here's everything you need for today's matches in the World Cup.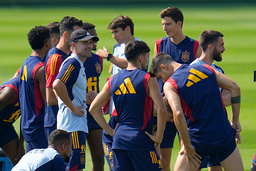 Morocco-Croatia, Group F
When: 11.00 a.m.
Where: al-Bayt Stadium, Al Khor
TV/Radio: TV4/C More
World Cup break in Parliament
It will not be a working day like everyone else for the Croatian Parliament, because it has been decided that there will be a stop during Croatia's World Cup premiere.
"We start working normally 9.30. Then we take a break between 11 and 13 because it is then football match between Croatia and Morocco", says the Croatian Parliament speaker Gordan Jandrokovic according to RTL Danas.
New the national team captain
Morocco's the national team captain Vahid Halilhodzic was fired in August. Although he led the team to the World Cup. He was replaced by Walid Regragui, who never before was the national team captain. Regragui thus got just over two months to put his mark on the team ahead of the World Cup.
Premiere victory = medal?
So far, Croatia has participated in five World Cup finals. The country's first prize looks as follows: two wins and three losses. The two championships that began with the premiere victory both ended with Croatian medals, bronze 1998 and silver 2018.
Germany-Japan Group E
When: 2 p.m.
Where: Khalifa International Stadium, Doha
TV/Radio: TV4/C More/P4 Sports-Radio
Germany has become a popular destination for Japanese players in recent years. It is also visible in Japan's World Cup squad. Eight players play in the Bundesliga on a daily basis.
"We have many feelings for Germany but we have to treat the game as if we are playing against any other team, and simply do our best", says Japan's the national team captain Hajime Moriyasu.
Which captain's armband will Germany's captain Manuel Neuer wear? The German national team was one of seven who were due to wear the "One Love" armband before Fifa announced that players wearing the armband will be penalised with a yellow card before kick-off. The goalkeeper was reportedly furious with FIFA's decision.
Leroy Sané was expected to start as a left winger towards Japan, but due to a knee injury he misses the game. Now the national team captain Hansi Flick has to reconsider.
Flick also misses the attackers Timo Werner and Marco Reus.
Spain-Costa Rica, Group E
When: 17:00
Where: al-Thuma Stadium, Doha
TV/Radio: SVT1/SVT Play/P4 Sports-Radio
Sergio Busquets, 34, is the only player left of the golden Spanish generation as won two European Championship gold and a World Cup gold between 2008 and 2012.
Spain enters the tournament with World Cup's third youngest squad. More than half of the players in the squad are 25 years or younger. Six players are younger than 20 years. The average age of the squad is over 25 years.
"It's very positive because young players give energy to the team. We try to manage it with the experience we have as leader of the team", says the national team captain Luis Enrique according to AFP.
Costa Rican goalkeeper Keylor Navas plays for Paris Saint-Germain. There, he has seen few game minutes recently. In the national team, however, he is a given.
"Being in a World Cup is always exciting, it's a permanent dream. We'll enjoy as much as we can. We'll go step by step and enjoy the World Cup", says Navas to Spanish Marca.
The former AIK player Celso Borges is now back in the domestic league. However, the midfielder is expected to take place in Costa Rica's starting eleven. The midfielder has been noted for 155 matches in the national team shirt.
Belgium-Canada Group Formerly
When: 20:00
Where: Ahmad bin Ali-stadium, al-Rayan
TV/Radio: SVT2/SVT Play/P4 Sports-Radio
According to Belgium, their second outfit - white and slightly rainbow-coloured, with the word "Love" visible on the neck - has been stopped by FIFA. The shirts were meant to signal inclusion. Now they have been forced to change the jersey.
"The word Love has to disappear. It's sad, but FIFA doesn't give us any other choice", says President Peter Bossaert according to Nieuwsblad.
Canada back after 36 years
Canada's World Cup for gentlemen for the first time since 1986. Then you run into tough resistance. Opponents Belgium made it to the semi-final in 2018 and is second on the FIFA ranking.
"We want to surprise people because I think people still see us as underdogs. Canada in the World Cup, they should just be happy to be here. But that's not our mentality. We're here to compete – to compete at high level", says Canada's midfielder Jonathan Osorio according to AP.
The judge got a heat stroke
Janny Sikazwe, 43, from Zambia referees the match. In the African Championships earlier this year, he blew the whistle after 85 minutes. Just under half an hour later, he blew it again, only to call it off a few seconds before 90 minutes. A medical examination later revealed that Sikazwe had suffered heat stroke, an explanation for his misses.