Each person in the EU throws away an average of 127 kilos of food waste a year, according to the first-ever compilation. Sweden is one of the countries with the least waste.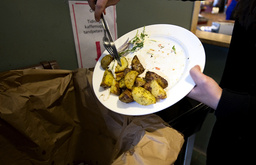 The first compilation shows that the majority of total waste is thrown into households – an average of 70 kilos per person.
Sweden, which has been measured since 2012, is among the five countries with the least losses per inhabitant. The Swede throws an average of about 87 kilos. Slovenia is the best with 68 kilos. Cyprus, Greece and Denmark are the worst.
But the statistics are not complete and the definitions may vary.
"Both we and other countries work for better food waste data. The interpretations and how to measure can be different, so far there are uncertainties when comparing between countries," says Christina Anderzén at the Swedish Environmental Protection Agency's waste analysis unit in a press release.
The Swedish Environmental Protection Agency, together with the Swedish Food Administration and the Swedish Agriculture Agency, are responsible for reducing food waste.
"Measuring food waste increases the possibility of reducing it. Food waste is food waste mainly in households, public meals, restaurants, grocery stores, but there are also losses on farms and by-products in the industry," says Karin Lindow at the Swedish Board of Agriculture.
Facts: Food waste in the EU
On average, 127 kg of food waste is disposed of per person in the EU.
The best countries:
Slovenia 68.
Croatia 71.
Slovakia 83
Bulgaria 86.
Sweden 87.
Worst countries:
Cyprus 397.
Denmark 221.
Greece 191.
Portugal 184.
Netherlands 161.
The extent of measurements and definitions may vary from country to country.
Source: Eurostat