Saudi Arabia pulled off a shocking victory when they defeated World Cup favorites Argentina 2-1.
Now it is clear that the country is announcing a national holiday on Wednesday.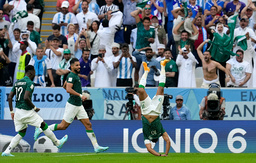 It was Crown Prince Mohamed bin Salman who put forward the proposal for a national holiday tomorrow, Wednesday. The reason is Saudi Arabia's sensational victory against the Great Nation of Argentina, one of the gold favorites in the World Cup in Qatar, on Tuesday.
The proposal has been approved by King Salman bin Abdul Aziz, which means that all students and employees have a day off to look forward to.
It reports several Arab media.
Saudi Arabia turned the underdog to victory with 2-1 after among other things a dream goal of Salem al-Dawsari.
Saudi Arabia next meets Poland on Saturday. Argentina faces Mexico.