Disappointment of a VAR decision and a missed open goal.
Two details summarizing Denmark's scoreless World Cup start against Tunisia.
"In my interpretation, you cannot go back and give them freekick," says team captain Simon Kjær.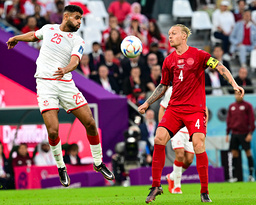 In addition, referee César Arturo Ramos ran out to the VAR screen, placed on the long side between Denmark and Tunisia's benches, to check the hand situation on Yassine Meriah.
After a while he came back out on the field and waved deterrence.
No penalty for Denmark.
In addition, they got rid of the corner, which made the Danes both surprised and irritated.
Freekick instead of corner
"If it wasn't penalty, then he has to give us the corner, he can't go back any further and give them freekick", says Simon Kjær.
Joakim Mæhle:
"I thought it was penalty, because when he goes to the VAR screen it almost always was. But I think the judge said it was hands on one of our players before. That's why it wasn't penalty", he says.

"I did not know that they could rule freekick there ..."
Kjær again:
"It was an important corner for us."

"But when he said it was freekick", then I knew he wouldn't change his mind. It didn't matter what we said.
Denmark got a tentative start on the championship in Qatar.
True, they owned the most ball but then the tripleland was slowly passing, Tunisia always got the team together low, compact and dissuade all the Danish attempts that came their way.
"We played a little too slowly and were a little too afraid to take chances to create something", says Mæhle.

"We're disappointed about that. Tunisia is a team we can beat, we know we have more quality than this. The positive is that we didn't let in any goal and got a point."
Miss of Cornelius
However, it could have been full-blown.
If only Andreas Cornelius had got his nick together, then he had open goal for the 70th minute.
"I think he was afraid of the pole, it was of course a great chance but that happens", says Joakim Mæhle.

"It's what it is now. He's done goal before and will do goal again, hopefully in those games that are coming."
Already on Saturday Cornelius can get revenge, when Denmark is facing France.