Robert Lewandowski, 34, had a chance to be a hero.
But the attacker burned the penalty kick.
Poland played 0-0 against Mexico in the World Cup.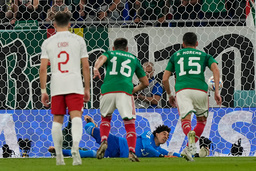 It was a game with low numbers of chances but still an intense game that took place between Mexico and Poland in the football World Cup. Both teams came to a couple of half chance but the first half ended speechlessly.
In the second half the tempo turned up a bit and after just over the hour was played Robert Lewandowski was pulled down into the penalty area. After a shorter VAR review, the judge pointed to the penalty point.
Lewandowski stepped forward – and missed. Barcelona's star-attacker, who had never previously made goal in the World Cup, represented a weak penalty saved by the experienced goaltender Guillermo Ochoa, 37.
The rest of the match was marked by close struggles and great will, but 0–0 stood and was also the final result.
Poland next meets Saudi Arabia on Saturday. Mexico faces Argentina the same day.