Skansen's two barn owls have escaped. Since darkness has fallen over Stockholm, it is basically useless for the zoo to search further.
"Now it's very difficult to find them", says Linda Törngren, head of the animal care unit, to TT.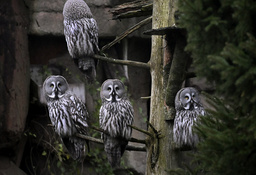 The zoo's barn owls, the breeding owl Percy and his son Barr, fled their enclosure when it broke down during the night until Tuesday, which Aftonbladet was the first to report.
"During the night our vole collapsed because of the snow weight and there was a huge hole in it. I understand that the barn owls flew out, there was not much left of it", says Linda Törngren.
Not flown far
Now a difficult job is waiting to catch the birds. Skansen writes on his website that "when the barn owl is frightened it pulls together and looks like a narrow branch".
This morning one was seen in the area, but since then they have not been located.
"We don't think they've flown that far. Probably they've flown off to some nearby tree. They have no reason to fly on."
Törngren says they are trained to come down on a signal, a kind of click, which increases hopes of catching the owls once you find them.
Hunting small rodents
The owls are based in Norrland and are therefore doing well in the climate that prevails. They last a long time without food and if necessary, they are expert hunters of small rodents, says Linda Törngren.
The owls are probably still in Skansen's area and the public does not need to contact us about suspected barn owls in nature – if they are not in Djurgården, where Skansen is.
Anyone who sees a barn owl doesn't have to be afraid.
"They are absolutely not dangerous if you are not a small rodent. They are very used to people and are very nice", says Linda Törngren.
This is the second noted escape from Skansen in a short time. In October, the king cobra escaped called "Sir Vääs" from its terrarium at Skansen aquarium.
Facts: Lapp owl
The barn owl has a weight of 1 to 1.5 kg, a length of 59 to 68 centimeters and a wing width of up to 1.5 meters.
In nature they become about 15 years old but in zoos they can be up to 27 years old.
Lappuglan is based in Norrland.
Source: Skansen