The Energy Market Inspectorate's (Ei) announcement about a ceiling on the electricity subsidy will delay the payments.
That's what Svenska kraftnät says, which previously evaluated - but rejected - Ei's proposal.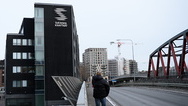 On Thursday, the Swedish Energy Market Inspectorate gave the green light for the electricity support proposal that Swedish power grids and the government presented.
On the other hand, the Authority introduced a ceiling for really large electric consumers.
That decision surprises the Swedish power grid.
"This ceiling will mean delays for when we can pay out the support", says Malin Stridh, Head of Department for Electricity Market at Swedish Power Networks, to TT.
The reason is that the ceiling means that the authority needs to comply with more complex EU rules because it means that different actors are treated differently linked to state aid rules, according to Malin Stridh.
The model that Ei has now decided on is a model that we have previously evaluated and rejected, precisely because it was important that we wanted to get the electricity subsidy out in the near future, she says and continues:

We have had dialogues with Ei during the course of the work, but this still came as a surprise to us.
TT: How much extra time will the payouts take now?
I can't answer that now, we need to analyze Ei's decision first and have to come back, says Malin Stridh.