"I don't know what happened," says Ukrainian President Volodymyr Zelensky about the missile strike in Poland.
Ukraine will probably have access to the site where the disputed missile struck on Tuesday, Poland states. Right now the investigation is being led by a Polish-American team.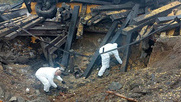 Ukraine's President Volodymyr Zelensky mitigates his rhetoric about the impact in Poland somewhat, after saying on Wednesday evening that the missile was not Ukrainian.
"I don't know what happened. We don't know for sure. The world doesn't know", says Zelensky now according to the news agency AFP – but adds that he is sure it was a Russian missile.
"We share the view that Russia bears full responsibility for its missile terrorism and its consequences against the territory of Ukraine, Poland and Moldova," writes Ukrainian Foreign Minister Dmytro Kuleba on Twitter after a conversation with his American counterpart Antony Blinken.
Ukraine can access
Last night NATO and a number of world leaders stated that the missile that killed two people in Polish Przewodów was unlikely to be fired from Russia. Instead, it was believed to have been a Ukrainian missile – fired with the aim of hitting an incoming Russian missile – that struck in the Polish countryside.
However, NATO director Jens Stoltenberg, as well as the USA, Poland and a number of other EU countries, underlined that Russia bears the ultimate responsibility.
Jakub Kumoch, advisor to Polish President Andrzej Duda, states at the same time that Ukraine is likely to have access to the impact site in Przewodów.
Impact filmed
According to Kumoch, a Polish-American investigation team is now working on the scene.
"The Ukrainians asked about access to the investigation site. If both parties agree, as far as I know, there will be no objection from the US side and access can be given soon", he says to the independent news channel TVN24.
The president's advisor also states that there is film material from the incident.
"At one point, a very short time, you can see a certain sequence of events, he comments on the material according to TVN24."