Fire in multi-family houses in Hallunda
Residents in a 50-meter apartment building in Botkyrka municipality were forced to evacuate after a fire spread from an adjacent building.
But the emergency services decision to let the wooden roof burn down may have saved the apartments underneath.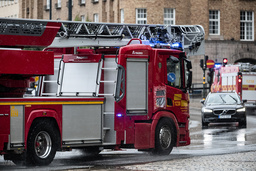 Shortly after two o'clock ealy Wednesday morning there was an alarm about a fire in a so-called function building, which the emergency services describe as a laundry room as well as a rough sweep in Hallunda outside Stockholm.
The building, which is estimated to be about 50 square meters, was fully engulfed in fire when emergency services arrived. Then the fire had also spread to the adjacent 50 meter long multifamily building with two floors and two gates.
It has also taken place in the roof of the residential building. There are concrete facades and concrete beams between the top apartments, and the roof construction is made of wood, so it was decided not to add water – there is only greater damage from it, says Roger Magnusson, officer in charge at Södertörn Fire Defence.
Instead, they allowed the roof to burn down while the apartments were being guarded and all the residents evacuated.
Shortly after 04:00, Magnusson states that the situation is under control as the fire has subsided considerably and the apartments are deemed to have survived okay.
The apartments seem to have been doing quite well, he says.
One person was slightly injured by smoke and had to be cared for by ambulance staff on site.
The rescue services estimate that they will be in place a bit into the morning.