Podcaster wants to leave his childhood traumas behind
Comedian Fredrik Söderholm has come to terms with his childhood traumas in front of open curtains and live broadcasts.
Now the podcaster is practicing keeping his secrets to himself.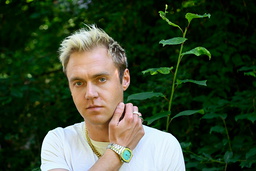 Their podcast has been called "totally limitless". When Fredrik Söderholm and Ola Rapace decided to make radio about addiction and trauma, the programme was named after the note Fredrik Söderholm's father left when he abandoned the family: "Sorry, everything went to hell". At the time, Fredrik Söderholm was still in his mother's womb.
In the podcast, Ola Rapace talks about the time he drove his son to the babysitter's house while drunk, and then shot heroin in a drug dealer's neighbourhood. Fredrik Söderholm records his very first meeting with his father, and several heart-wrenching confrontations with his mother. The aim of the conversations is for them both to become better people.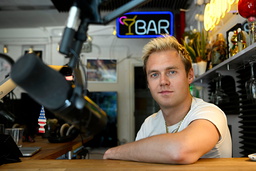 Fredrik Söderholm runs four podcasts and a morning radio programme.
Podden leaves the listener with several questions. Can you be this honest and boundless? How does that affect privacy?
I don't know if we're that honest, you always choose what shard of reality you show to others. But we tell you a lot about ourselves, and in order for me to understand all the shit, I have to let go of all the reins and be a little boundless," says Fredrik Söderholm.
The 30-year-old has so far not noticed any consequences of his openness, he says.
It's hard to know how people have been affected, if they've been thinking "What a boundless bastard – I was going to ask him out but now I don't care." People come out mostly and say "What a strong listening experience, now I've started to think about my own shit."
Release of the trade book
Working with radio seems to run in the family. Fredrik Söderholm's father – who he met for the first time during the podcast – worked on the radio. His mother also worked with the medium before, but has now changed industry.
Fredrik Söderholm began his career in the world of television, and then moved to Swedish Radio. In addition to participating in the satire program "Tankesmedjan" he described the journey towards a cocaine-free life in "Hello I am Fredrik" in P3. Shortly after a relapse – which he broadcast live in social media, where he also hung out an unfaithful date – he left public service for his own morning radio project "Gott snack".
It's fucking unfiltered, that's why it's listener-funded. It's hard to get sponsors, he says and laughs.
Fredrik Söderholm seems to be a fast living person. In addition to the already lined up projects, he also has podcasts with Julia Frändfors and Calle Schulman. When TT meets him, he has also just signed a book contract – the idea is to tell about psychological theories based on his own experiences.
Got a brain hemorrhage
The intense reality suddenly stopped in the spring, when Fredrik Söderholm suffered a brain hemorrhage. To this day he suffers from brain fatigue, and has a certain loss of vision.
You don't know what long-term changes will be, but that's when I realized that I don't have to remain in dysfunctional relationships with people who don't treat me well. I don't know how long I'm allowed to be on this earth and I'm not going to throw it away, he says.
When TT meets Fredrik Söderholm the recording is going on full of the second season of "Sorry everything went to hell", but shortly afterwards they choose to break the collaboration and put down the podcast after a fight – far from their first.
Both tell that they were unsure of each other at the beginning of the relationship. Ola Rapace describes how the expectations that he would stand for the "scandal value" made the recording difficult and painful, Fredrik Söderholm was in turn afraid that Ola Rapace would withdraw.
He was a bit angry during a conflict and I felt that "I have to get this podcast out, it will be my 'claim to fame'". I was afraid he would get angry and quit – so I was submissive and submissive," says Fredrik Söderholm.
But have they become better people after digging deeper into their traumas? Fredrik Söderholm is clear about one thing:
I have realized that borders are a very important part to feel good, both towards himself and others. Borderlessness can be fun in the moment, but it will not be good, he says.
Today, for example, he would not post recordings of his therapy talks, something he has been generous with before.
It may be a less sleazy podcast, but it's a sign that I've evolved.
Facts: Fredrik Söderholm
Fredrik Söderholm was born in 1990 in Stockholm.
He started his career in the world of television, including Filip and Fredrik's production company Nexiko.
Fredrik Söderholm has participated in the P3 programme "Tankesmedjan" and "Hello I am Fredrik".
Now he runs the podcasts "203 ways to make him wild in bed" with Julia Frändfors, "Schulman and Geniet" with Calle Schulman, "Sorry everything went to hell" with Ola Rapace and the morning radio program "Gott snack".
Fredrik Söderholm also works on a trade book, where he links various psychological theories to his own experiences of life.