MP: The state should be responsible for energy efficiency
As a solution to a new winter with record high electricity prices, the Green Party wants more homes to be energy efficient. The party proposes that the government take most of the bill to optimize villas and larger properties.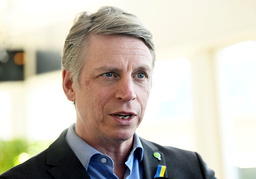 Under the proposal, the state would pay 80% of the cost of all energy-saving measures taken by households and property owners. This could range from installing a heat pump or geothermal heating to improving ventilation and insulation.
The long-term solution to keep energy costs down is that the government is now helping households to reduce energy consumption as much as possible," says Per Bolund, spokesperson of the party.

If you succeed in making those efforts it will not only effect this winter but many winters ahead.
Can be combined with root deduction
Like the so-called green deduction, private individuals and property owners should be able to apply for tax reductions for measures that optimise energy consumption. The support, which will apply for a limited period of time, should also be possible to combine with the root deduction.
No estimate of what the proposal may cost the state has been made by the party, where some measures are more expensive than others.
According to calculations from Vattenfall, for example, the installation of rock heat for a medium-sized villa costs more than SEK 160 000 after a root deduction.
TT: What could your proposal cost?
It is demand that will determine how much these costs will be," says Per Bolund, who says that the government will recover this in reduced energy consumption and power output.

But the government can clearly afford it. Revenues from energy taxes and VAT have increased and that money we can use to help households cope with the high costs. Revenues to Vattenfall will also increase, and thus the dividends to the state.
Does not exclude direct aid
At the same time, the party wants to take back and broaden the so-called energy step, which is aimed at companies that want to energy-efficient their activities.
It had a very positive effect, many companies were looking for and have been very satisfied with the effects. Now we also think that small and medium-sized enterprises should be able to apply for support.
On Tuesday, the Moderates proposed a high-cost protection to prevent household electricity bills from rushing away in the winter. Prime Minister Magdalena Andersson (S) also opened for direct support – and that door does not close Per Bolund either.
We agreed with what the government proposed last winter, so we do not exclude that possibility, but our conclusion is that this is a better way to spend our common money.