V furious over PM's answer on Kurdish leader
The Prime Minister's non-statement on Selahattin Demirtas, former leader of the pro-Kurdish HDP party, signals once again that the government does not want to clash with Turkey, says the Left Party.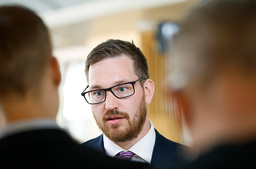 The Left Party's Håkan Svenneling, foreign policy spokesperson, strongly criticises Prime Minister Magdalena Andersson (S) after she has not been able to say that the Social Democrats are behind opposition leader Selahattin Demirta's release.
I find it very worrying that today we are taking another step away from the things we have stood up for, for a Swedish NATO membership and to appease the Turkish regime, says Svenneling.
Selahattin Demirtas is a former party leader of the pro-Kurdian party HDP in Turkey. He has been held in custody since 2016, including for spreading "terrorist propaganda".
HDP is known as both the Turkish sister party of the Social Democrats and the Left Party and S has been very committed to the release of Demirtas. Last January, Minister of Foreign Affairs Ann Linde (S) called on Turkey to take steps to secure the immediate release of Demirtas and other Kurdish politicians.
"Not inserted"
It was during the radio channel P1's party leader hearing that the Prime Minister was pressed with questions about Demirtas.
On the question of what the Prime Minister thinks Turkey should do with him, she replied:
As NATO members, like other NATO members, we will continue to be a strong voice in the world for democracy, freedom, freedom of the press and the right of organisations to operate," Andersson says.
However, Mr Andersson could not repeat Mrs Linde's demands, but she pointed out that the government did not change its foreign policy line.
She then said that she was not sufficiently familiar with the details of Mrs Linde's statements.
Requires clarification
Svenneling finds it remarkable that Andersson cannot take a position that has been the party for a long time.
If one is to be a strong representative of democracy, one must also be able to say that it is wrong to arrest opposition leaders and throw them in prison for six years.
He also thinks it's strange that Andersson says she's not up to date.
This is one of the most famous arrests of over five thousand political prisoners in Turkey; criticism has been levelled at by the Council of Europe and Mrs Linde has said this here in Parliament, which makes it quite clear that it is the government's position.
Svenneling now wants to see the Social Democrats go out and make it clear that they stand up for HDP and Selahattin Demirta's release.
In October, Turkey's Parliament, which has not yet decided to approve Sweden and Finland's NATO application, will open.