Einár's mother starts a foundation in her son's memory
Barely a year has passed since rapper Nils Grönberg, better known under the artist name "Einár", was shot to death. Now his mother Lena Nilsson is starting a foundation in memory of her son.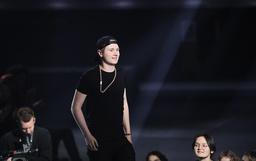 "The collection foundation Nils Einár Grönberg Foundation", as it is called, will support people or organisations working in the creative and artistic spirit of Einár.
"All in order to improve and ultimately create dignified living conditions for vulnerable and exploited children and young people as well as their loved ones," writes Lena Nilsson in a press release.
She wants to summarize the fund's purpose with an interview that TT did with Einár 2019. There the artist explains why he does not want to describe his music as gangster rap.
If I've gone the wrong way, doesn't that mean I'm a gangster, I'm 16 years old, how could I be a gangster? It's better to call me a bad seed that hasn't found the right way. Then you need to help instead of stamping, said Einár.
Einár came through as a 16-year-old and quickly became one of the biggest names in Swedish rap. His songs received millions of listenings at Spotify and he was rewarded at both the Grammy Gala and the P3 Gold Gala.
Like several of the country's most famous rappers, he had connections to gang-criminal environments. On 21 October last year Einár was shot several times at close range in Hammarby Sjöstad in Stockholm. He was 19 years old.