Zelensky: Stop visa to Russian citizens
"Close your borders to all Russian citizens for a year. "
Volodymyr Zelensky gives this invitation to all Western countries.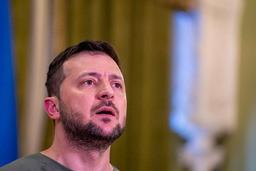 Stopping issuing visas to Russian citizens, along with an embargo on the purchase of Russian energy, could prevent Russia from annexing new areas in Ukraine, says Zelensky in an interview with the Washington Post.
"The most effective sanction would be for other countries to close their borders to Russian citizens for a year," says the President in the interview.
Zelensky says that closed borders for Russian citizens would be an indication that they should respect the borders of other countries.
Finland a loophole
The fact that Russian flights are not allowed to fly to countries in the EU and North America today is not enough, according to the President, because there are loopholes, for example, Russian citizens can still apply for visas to the USA and many other countries in the West.
Another loophole is to use Finland as a transit country to travel to Mediterranean resorts.Swedish Ylereports that Russian companies sell car travel from St. Petersburg to Helsinki and Lappeenranta airports, from which they can then travel further to Europe, because it is not prohibited for a Russian citizen to get on a plane in Finland.
Discussed in the EU
At present, an appointment is required to be able to submit a visa application to Finland. The number of reception times has now been reduced in the hope that it will lead to a decrease in the number of visas.
In order to close the loopholes further, Finland's Prime Minister Sanna Marin has proposed an EU-wide decision to stop visas for Russian citizens. The issue will be discussed at EU level during an unofficial Foreign Minister's meeting at the end of August, says Swedish Yle.
Received criticism
However, the proposal has also been criticised for being a form of collective punishment that would make it more difficult for Putin opponents to leave the country.
In response to the criticism, Zelensky says that the entire Russian population can actually be held responsible for Russia's war in Ukraine.
The people have chosen the Russian government and they do not resist it, they do not argue against it and they do not yell at it.
The Kremlin spokesman, Mr Peskov, says in a statement on Tuesday that the proposal in Moscow is 'extremely negative'.
"Every attempt to isolate Russia or the Russians is an attempt without any prospect," says Peskov.