Explosions at Russian military base in Crimea
Major explosions have been heard from a Russian military base in Crimea, and black smoke is visible from a distance, reports Reuters news agency atits website, referring to eyewitnesses.
The governor appointed by Russia confirms that explosions have taken place.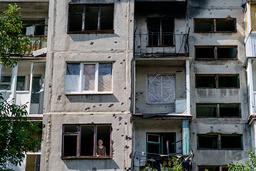 Video clips in social media show black smoke columns against the sky, and they are said to have been filmed near the Russian base Novophyodorovka in the western Crimea. At least twelve explosions were heard within one minute, according to the witness reports. The authenticity of the films has not been confirmed by independent sources.
An adviser to the Governor Sergei Aksjonov appointed by Russia confirms that explosions have taken place near the Russian base Novophyodorovka, reports the State Russian news agency Interfax.
Aksjonov is on his way to the scene, stating that the circumstances should be investigated.
The Russian Department of Defense states that no one was injured, and that the fire has been extinguished. The explosions are not reported to have been preceded by any fire, according to the Ministry.
Russia annexed Crimea from Ukraine in 2014, in violation of international law. The peninsula has so far been spared bombings and artillery shootings in the battles that have taken place since Russia invaded Ukraine in February.
Attacks near nuclear power plants
On the mainland, the Russians have attacked a city near the occupied Zaporizjzja nuclear power plant, according to information from Ukraine.
Over 120 rockets from automotive rocket artillery systems of the Grad type have been fired at the town of Nikopol located on the Dnepr river, on the other side of the Zaporizjzja nuclear power plant, according to local representative Valentyn Reznichenko.
According to him, several residential and industrial facilities have been damaged.
In recent days, Ukraine and Russia have accused each other of attacking the nuclear power plant, which is Europe's largest. On Monday evening, Ukraine's President Volodymyr Zelensky spoke, among other things, about the Chernobyl disaster in 1986 in Ukraine, in the then Soviet Union, and called for new sanctions against Russia for creating a threat to a new nuclear disaster.
Battles near Donetsk
On Monday, on the contrary, the Kremlin claimed that the Ukrainian military attacked the nuclear power plant and called on the Western countries to force Kiev to stop this.
Battles are also reported from frontal communities near the city of Donetsk in eastern Ukraine.
The situation in the region is tense – the shooting is constant at the entire front line. The enemy also uses a lot of air strikes, says the region's Governor Pavlo Kyrylenko, on Ukrainian television.
Nordost in Kharkiv Ukrainian forces have captured the city of Dovhenske and are heading for Izium, reports Presidential Advisor Oleksiyj Arestovych in a Youtube video, reports the news agencyReuters.