Cambodia recovers plundered cultural treasures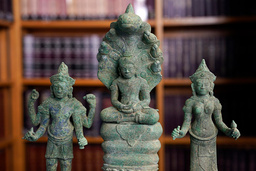 1 000 year old Buddhist and Hindu statues return home. Now the USA has returned 30 plundered cultural treasures to Cambodia.
The objects were handed over to Cambodia's ambassador in the USA, Keo Chhea, on Monday.
The antiquities were stolen from Cambodia between 1960 and 1990 – many were taken during the wars that went on in the country during the 70's. They have since been sold illegally all over the world. The objects were taken from Koh Ker, an ancient city in the ancient Khmer Empire, which existed between the 800's and 1400's.