After the fire – E6 open for traffic
There was a heavy fire on Monday in a caravan shop near E6 in Kållered, south of Gothenburg. Traffic on the highway was completely or partly shut down during a large part of Monday. Now the road has opened for traffic again.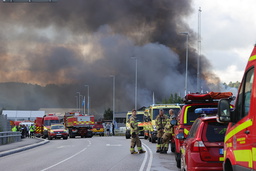 The alarm about the fire came just before six o'clock in the morning. The smoke was so strong that residents in the area were told to stay inside, writesGöteborgs-Posten.
No one is known to have been injured in the fire.
The police have initiated an investigation into arson, without any direct suspicions.
We do not know how the fire started, says Stefan Gustafsson, spokesperson at the police region West.

We haven't been able to go in there yet to do a technical investigation about where the fire started, says Gustafsson on Monday afternoon.
The fire and the smoke caused major disruption on the E6. Now the traffic has reopened, the emergency services announce on Tuesday morning.
The emergency services had at most about 20 units on site.
It has been extensive and difficult for the firefighters because caravans have burned, with a lot of Styrofoam and plastic, says intervention leader Per-Anders Lindfeldt toSVT News West.