Sweden falls to home nation in JVM repeat
At first it looked like Sweden was in for a real belly flop in the JVM repeat against Canada. And although the Junior Crowns caught up, it was not enough and the home nation won 4-3.
A really tough and great match, sums up coach Tomas Montén.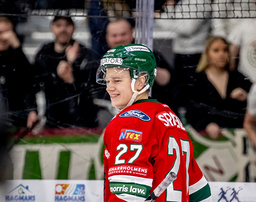 Canada led 3–0 after the first period of the training match in Edmonton. In others Sweden reduced to 3–1 by Frölundas Theodor Niederbach.
Canada expanded the lead to 4-1 at the beginning of the third, but after that the Junior crowns managed to catch up, albeit not all the way.
Jonathan Lekkerimäki, Djurgårdspelaren who was the first Swede to be picked (by Vancouver) during the NHL draft in early July, scored Sweden's second goal, assisted by Niederbach with half the third period played.
In the final minutes, William Wallinder, Rögle, received Sweden's third and last goals. The match ended 4–3 to Canada.
A really tough and great match I think. The first half of the game we are not good, we start too hard. I think we play ourselves a little bit and fall into the trap, says coach Tomas Montén.

Then we manage to get through and we do a really good match the last half, he continues.
On Tuesday JVM starts in Edmonton. It was supposed to have been played last year but was interrupted and postponed due to covid outbreaks in several teams. Sweden plays the first game against Switzerland, down by 20 on Wednesday.
Corrected: In an earlier version of the text the wrong day stands for the start of the championship. JVM starts on Tuesday and nothing else
Facts: Sweden's last ten JVMs
2021: Fifth.
2020: Bronze.
2019: Fifth.
2018: Silver.
2017: Four.
2016: Four.
2015: Four.
2014: Silver.
2013: Silver.
2012: Gold.