Man arrested for fire at People's House in Mörsil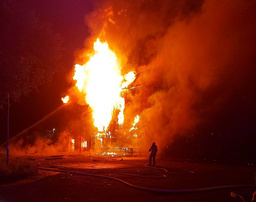 A man has been arrested for setting fire that completely destroyed the People's House in Mörsil, located between Åre and Östersund, reportsP4 Jämtland.
The alarm about the fire came at 02 o'clock the night towards Friday. The building was completely flooded when the emergency services arrived. In the property there was a pizzeria, a community hall and a dwelling.
The prisoner is on probable grounds suspected of arson, and no person was injured in the fire.