Molly Sandén: I want to dance to the sing-along
When she turned 20 she sang the whole audience "I may she live" for her. 10 years and several sings later Molly Sandén, 30, stands on stage again – this time she also makes an hour's own concert. And she intends to ruffle the audience's hair.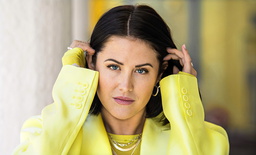 Molly Sandén is planning for an evening at Skansen that breaks the helily, summery sings many are used to. The goal is that no one should remain in the chair on Tuesday, when the artist does the extra concert "Allsångsscenen är din".
I'd like to offer you an hour that's not classic singing, and it's going to be more cluby and more destructive, and I want to make dance floors out of the singing crowd.
The concept "Allsångsscenen är din" has been around since 2012. Former artists who did the concert are among others Lisa Nilsson and Håkan Hellström. Most recently Benjamin Ingrosso held the evening.
Molly Sandén was honored when she was asked to do the extra concert," she says.
It feels like a milestone to get the question, like there's a "before and after" this evening.
There's another Molly Sandén standing on the Solliden scene, compared to the one who stepped up for the first time on the same scene ten years ago.
Since I was with the first time I have had seventeen different hair styles and gone through some heart breaks. I feel like I have lived several lives since then.
Her lyrics have gone on to be more about outdoor life and a messier existence and the music has got a "clubier" character, like the hitsling "We will never go home". In the song, which is a version of a student rhyme, she sings about partying all night, to an uptempo beat.
Molly Sandén: "I've been out partying a lot. I've made bad decisions, but it's part of the trip".
"I've made bad decisions."
Molly Sandén is known for her strong vocal voice and emotional lyrics. She says that in recent times she has dared to show more darkness and tell about the more uncleaned phases she has gone through in life.
I've been out partying a lot. I've made bad decisions, but it's part of the trip.
But she promises a bit of both on Tuesday's concert.
Everything from "Husavik" where I stand still and sing my very best and just deliver power songs, to stand and dance to "We will never go home" and make the audience forget where they are.
There will be both unreleased songs and guest artists. On the regular all-song broadcast she will also sing Petra Marklund's "Hands towards the sky" together with the audience.
That song gets with both sides of me. There's this darkness and "the boiler to the bar, now we blow the roof" , but also a positive we-feeling that brings people together.
Wanted to please everyone
Molly Sandén grew up with "Allsång på Skansen" on Öland with Grandma and Grandpa. They used to pull out the TV on the terrace and bench themselves with dinner on her lap. She remembers Helen Sjöholm on stage and the sacred feeling that appeared.
A lot has happened with how she sees her own performance on stage and who it really is she sings for, since the first time she herself stood on stage.
Ten years ago, I think I had a lot in my head that I wanted to make Grandma proud.
Now she wants to shake off the audience's expectations – perhaps even the grandparents' and their friends who sit and watch out on Öland.
TT: What expectations did you think people had?
I wanted to prove to everyone that "I can sing well." But when I listen back to my first albums I realize that you can't sing your very best on all the songs. It becomes almost unbearable to listen to. It becomes princess cake on princess cake.
She adds:
If I've landed in something, it's getting away from thinking about what everyone else wants you to be, or what I think they want me to be.
Molly Sandén
Age: 30
2006 became her song "The finest anyone can get" the winning entry to the Swedish competition for Junior Eurovision Song Contest.
Three years later she participated in the Melodi festival with the song "So do the stars".
2012 she was back in SVT's music competition with the song "Why am I cry" and then "Youniverse". She did her first "Allsong on Skansen" the same year.
In 2018, Molly Sandén started singing in Swedish again, with the r'n'b-influenced album "Bigger", which was a great success. Even the sequel "The best may not have happened yet" from 2019 went home to the audience.
In 2021 Molly Sandén released the album "They Shall Know".
2021 Oscars-nominated "Husavik", from the film "Eurovision Song Contest: The story of fire fairy tale", where Molly Sandén was a singer and one of the songwriters. She did the song during her alter-ego "My Marianne".
In 2022 she made Sweden's official European Championship song "Vi:et i vind".
In 2022 she has been on both a spring tour and a summer tour.
Upcoming All-Singing Artists
August 9: Iris Bergcrantz, Marcus and Martinus, Albin Lee Meldau, Molly Sandén – "The All Singing Scene Is Yours"
August 16: Tommy Körberg, Ella Tiritiello, Siw Malmkvist