British rider infected with covid – still competed
Great Britain took World Championship silver in the dressage team competition - with a coveted rider.
The consequences are unclear.
One possibility is that Gareth Hughes' results will be cancelled. Then the silver goes to Germany and the bronze to Sweden.
The International Equestrian Federation, FEI, is currently in session.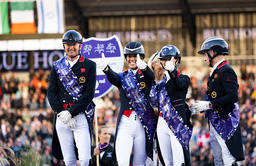 Gareth Hughes did not attend the press conference after the team competition. It was then that his teammates said that Hughes had tested positive but ridden anyway. According to British rider Richard Davison Hughes had permission to compete.
According to the representative of the organisation in Herning this must have been in accordance with Danish law. However, according to the FEI protocol for Covid-19 it is stated that the one who tested positive for covid-19 should immediately leave the arena,newspaperridsport.se.
Something Hughes, who competed on Saturday, did not do. He participated in the award ceremony and stood on the podium together with the other World Cup medalists. He must also have moved on the forward riding and in the press room.
FEI claims not to have been aware of Hughe's positive covidtest.
Brittain's teammates pointed out at the press conference that they tested negative and that Hughes should have been careful and kept a distance from others.
Gareth Hughes noted 75,978 percent on Saturday and his results were included in what was counted for the United Kingdom.
It is unclear whether the FEI goes as far as removing Hughe's results. Should that be the case, Richard Davison's 68,851 will be counted instead. Then the UK ends up at 227,096 percent and petas down to fourth place. Then the silver instead goes to Germany and bronze to Sweden, which stayed at 227,142 percent.
At the European Championship in Rotterdam three years ago Sweden was appointed bronze medallists after one of Britain's horses showed blood.