Multiple murders of Muslims under investigation in New Mexico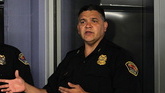 U.S. police are investigating whether four different murders of Muslim men in Albuquerque, New Mexico, can be linked.
In the last case, a man in his 20s who was shot to death and found saturday night.
Last week two other Muslim men were killed in the city and in November there was a fourth murder.
There is reason to believe that this …